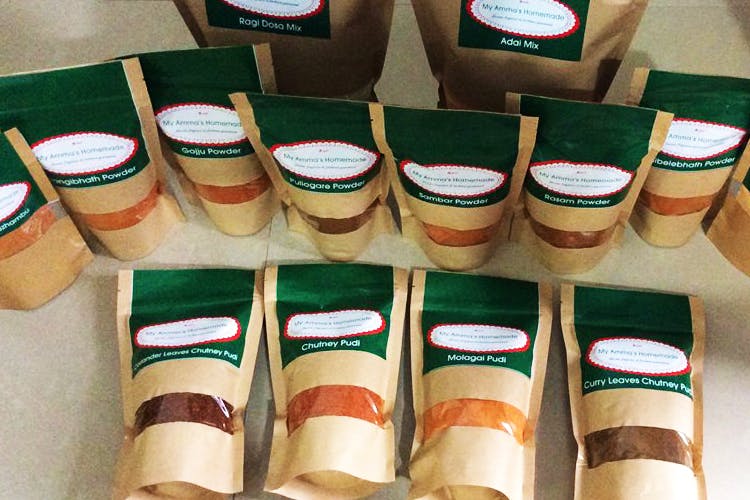 Pudis And Powders Just Like Your Mother's By This Brand To Brighten Up Your Dosas And Idlis
Shortcut
Run by a mother-in-law and daughter-in-law duo, My Amma's Homemade helps you recreate traditional dishes with their line-up of homemade powders and mixes. They also offer ready-to-eat chutney pudis and chutneys.
What Makes It Awesome
In early 2015, finding that they had time on their hands, Chandramathi and Sridevi decided to join forces, dug into their family recipe book and started My Amma's Homemade by selling sambhar and rasam powders along with chutney pudi. The first customers were from their network of family and friends who were familiar with Chandramathi's talent.
They may have started off small but My Amma's has a sizeable list of products on offer. We have been told that their Puliogyare Powder is a bestseller. You can try other South Indian staples too. Packets of Bisi Bele Baath, Vangibath, and Ragi Dosa Mixes are available. You can also pick up their Sambhar and Rasam Powders that are made in the Udupi style. They have a few specials from Tamil Nadu too, The offerings include Adai (a type of dosa) Mix, Molagai Pudi (their version of chutney pudi), and Vathal Kuzhambu (a thick curry that usually features red beans). For those of you who prefer something ready-made, there are options for you too. You can try the traditional Chutney Pudi or sign up for interesting Curry Leaf or Coriander versions. The Gongura Pachadi (a chutney made from gongura leaves} will also spice up your meal.

Everything at My Amma's is made-to-order. So, while they keep the basic ingredients right, the final mix is prepared only after you've placed the order. It may take a maximum of three days to reach you. Since everything is homemade, all their products are preservative free and safe to consume.
Comments