The information in this post might be outdated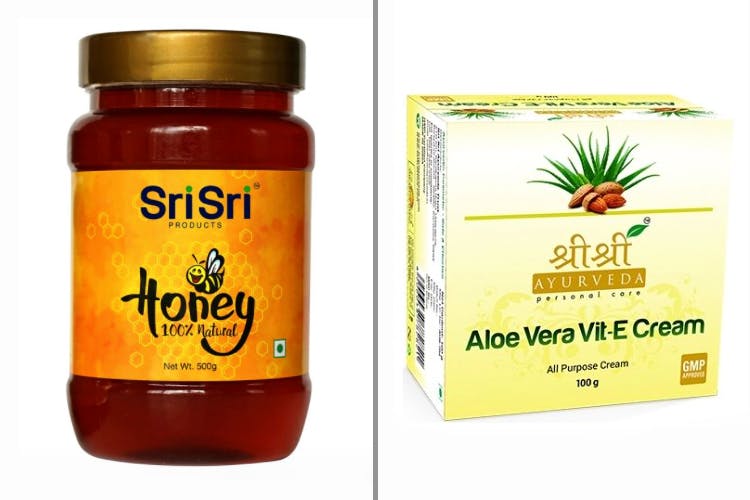 Aloe Vera Cream To Organic Honey, The Sri Sri Tattva Store Is Keeping It Real With Its Natural Products
Shortcut
Apart from tapping into your spirituality and inner peace with the Art of Living, there's plenty of wholesome goods and products to pick up, from the Art Of Living's health and wellness store — Sri Sri Tattva, on Kanakpura Road.
The Natural Grocery Run
From orange-scented face wash to masala powders, Sri Sri Tattva has got some wholesome produce and products on its shelves worth checking out and picking up. Affiliated with The Art of Living in Bangalore, you can be sure that the store sticks to the overall principles of health and wellness that the meditation centre is known for. With a store on Kanakpura Road, the place is stocked with everything from household groceries like pure ghee to rice, pulses and grams that they claimed is organically sourced. Find pickles, honey, brown sugar and even old-schools faves like Amla candies here too. Also, fill out your mom's masala tins with the collection of masala powders from garam masala to even sambhar powder. Prices for these start at around INR 35.
Bath, Body And Beyond
If our grandmothers have taught us anything, it's probably to keep our beauty practices natural. And Sri Sri Tattva is making our routines so much simpler with their natural concoctions of face washes, soaps, shampoos, toothpaste and even mascara. Pick up anything from medicinal Anti-Acne Gel to Protein Shampoo from the personal care range here. Just as you would probably imagine, there are plenty of Ayurvedic, herbal and medicinal products here too, from almond oil capsules to their herbal Kasahari Cough Syrup. Prices start as low as INR 40.
Health Is Wealth
Open from 10am to 6pm, the store works just like any grocery and department store. They even have ongoing offers on their products most of the time. Stay tuned to their Facebook page here to know about the latest deals available here. So how about making a healthy switch on your next grocery run by giving your local grocery stop a miss and checking out Sri Sri Tattva instead.
#LBBTip
If you can't make it all the way to their store on Kanakpura Road, find their products on the shelves of big department stores and supermarket chains like Star Bazaar. You can buy them online as well from their website here.
More Information
Sri Sri Tattva
Nearest Metro Station: Banashankari
Comments