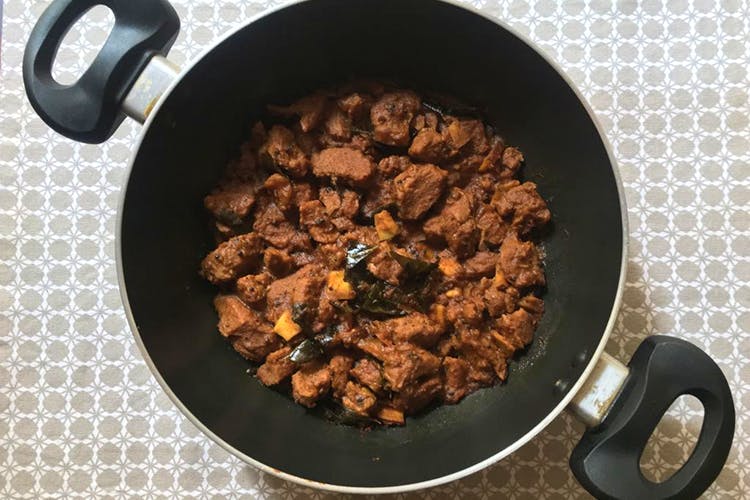 Kerala Beef Fry & Mughlai Mutton Korma: Weekends Got Meatier With This Delivery Service
Shortcut
Showcasing simple, homegrown flavours, AULI looks to cast a spell with its meaty, weekend menus. Their Kerala Beef Fry, Pork in Mustard Oil, and Beef Cutlets are must-haves!
Meat Cute
Over a year ago, buddies, Soju Varghese and Sandeep Jayaram, came together to launch As U Like It (AULI). Varghese's love for cooking slow-cooked meats had long earned rave reviews from family and friends. And with AULI, the duo have looked to spread the love further. Focusing on simple recipes centred primarily around meats like beef and pork, AULI is a weekend (Saturday and Sunday), food delivery service. The service has an Insta page and a Whatsapp group where Varghese, the chef cum chief marketer cum menu creator, shares the weekend's indulgences. Gluttonous patrons can then choose the dish of choice and have it delivered home.
In the early days, Varghese simply recreated the dishes that he grew up with. He perfected his father's Kerala Beef Fry and Beef Cutlets. And because he and Jayaram are ardent movie buffs, the dishes were presented to the world as Snatch and Balls of Fury respectively. Both dishes still make appearances on the menu and remain crowd favourites.
Home Hearth
Over the year, AULI's home kitchen has gone onto include plenty of flavours from different regions in India. With Delhi Belly, they pay ode to the Mughlai Mutton Korma at the famed Karim's with their own version. And with French Connection, the renowned Kosha Mangsho is reimagined as a pork dish. In the near future, AULI is looking to offer Continental-style sliders and sandwiches as the football World Cup unfolds. And also Chinindian dishes that we simply can't get enough off.
Thank to a tie-up with Dunzo, AULI pretty much delivers through most of Bangalore. Dishes cost around INR 375 and above per plate. And you can order as many as you like. The service only serves up the meat dishes and a few desserts. However, the carbs (rice, roti or parathas) are not on offer since they didn't want to restrict what your pair their dishes with.
Comments