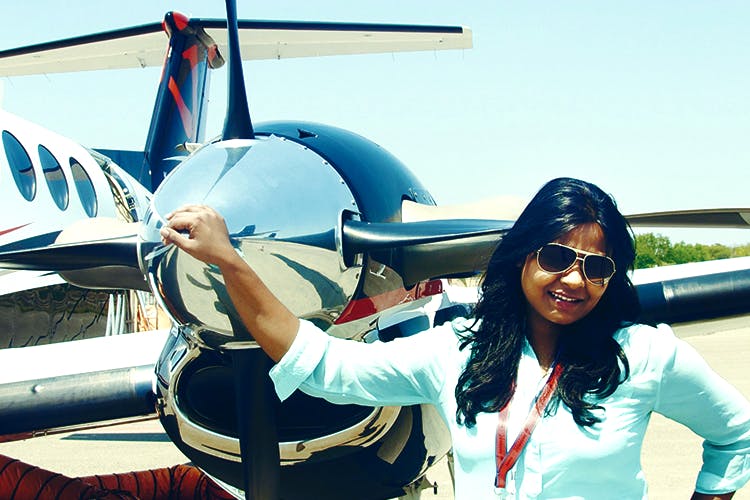 This Awesome Startup Will Have You Living the #GoodLife, High in the Sky
Shortcut
If you haven't heard of JetSetGo, chances are, like us, you're snoozing through an Economy seat. While private-jetting to a meeting in Mumbai might not be what we do, the story behind JetSetGo and the founder's grit is truly awesome. Introducing you to our #FitToFight homegirl, Kanika.
Her #FitToFight Story
Kanika's lifelong passion for aviation began after she saw a helicopter at the age of 4 years. Steadfast in her belief that she wanted to change the world and put our country on the map, she started JetSetGo, the country's largest private jet fleet.
When she turned 22 years old, she was diagnosed with cancer. Undaunted, she faced her disease with the conviction that she would survive, conquer and continue to live her life fearlessly. Despite the relentless nature of this illness, she persevered to turn her vision into reality.
Today she values the nature of her business, the commitment and capabilities of her team, the genuine appreciation from her customers and the common vision they all share of taking JetSetGo to newer heights. Together they are coming up with innovative solutions, better experiences and improving lives while revolutionizing the aviation industry and the way we travel.
How's #StartupLife Treating Her?
Apart from successfully donning the cap of an entrepreneur, which she compares to 'running a country', and rightfully so – she also enjoys painting, traveling and is a marathon runner. Being an entrepreneur, she admits work-life balance is tough to achieve everyday, but believes in prioritising according to one's own personal schedule and comfort. Her advice? Believe in yourself and never give up, if you put in the effort to achieve your dreams, the entire universe will conspire to make it happen with you.
What's In Kanika's Little Black Book?
Favourite eatery in Bangalore: Edo, ITC Gardenia. It serves delicious Japanese food, making every meal there a wholesome and soul satisfying experience.
Favourite weekend getaway near Bangalore: Definitely Coorg – no matter how many times you go, it always has something special in store.
Favourite activity in the city: A run through Cubbon Park helps me destress, unclutter my mind and rejuvenate my spirit.
Favourite Private Jet company in India? JetSetGo. Book a flight here.
Know Someone Who's #FitToFight
#FitToFight is an initiative by Reebok celebrating the extraordinary stories of everyday Indian women.  The stories will be evaluated by a prominent panel and will be felicitated by Kangana Ranaut at a grand awards night hosted at the end of this year.
Do you know someone who has a remarkable story you think the world should know of? Submit their story at fittofight.in or shoot an email at kangana.ranaut@reebok.in. You can also visit fittofight.in to read more inspirational stories
This story is in partnership with Reebok. 
Comments