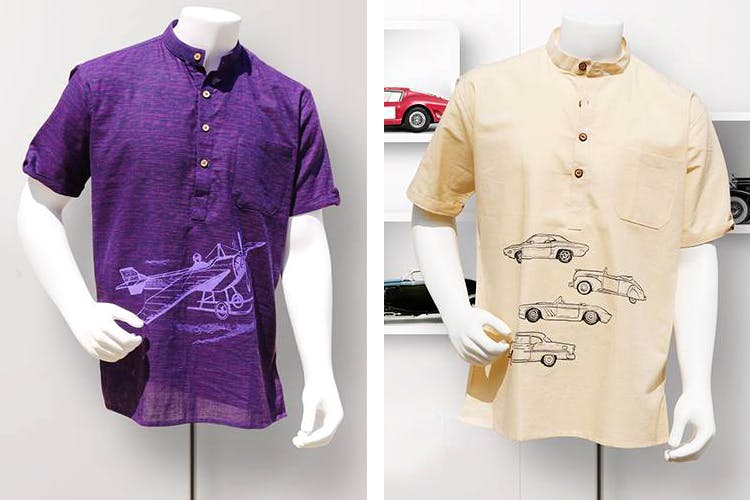 Are Those Candies? No, They're Quirky Clothes By BlackSheep Flock
Shortcut
From kurtas for kids and men to wall-art and posters, BlackSheep Flock caters to all your quirky needs.
For Father And Son
Is your kid insisting on wearing the same clothes as his father? Or is your husband insisting he matches his outfit with his son? Matching-matching won't be a problem anymore with these fun kurtas for men and children in pastel colours featuring Chinese collars and vector designs of boats, cars, bicycles, aeroplanes, scooters and whatnot. The prints, although same, have been quirked differently to appeal to both men and kids, so they truly look matched, and yet not the same.
Pop Art
Bangalore-based BlackSheep Flock does not keep just men and kids in mind, but also takes care of your aesthetic needs. MJ fans, alert! Wall art featuring vector silhouettes of Michael Jackson doing his famous moon dance and a cult poster of the Forty Licks album by The Rolling Stones are ultra cool. Even The Big Bang Theory is very much part of their collection, and a very minimal, pop poster of the popular "Bazinga" is for any die-hard TBBT fan. Some sarcastic quotes from Sheldon also caught our eye, particularly one that says "I am listening. It takes me a minute to process so much stupid all at once.", with a sketch of the THE Sheldon Cooper. We also really like their posters that talk about bathroom humour. There's this hilarious one that reads "You don't have to brush all your teeth, just the ones you want to keep".  They also have cute posters that your kids will love. Also, check out their "Bla Bla Gyan" section where you'll find random advice about life. You can download these for free, print them and pin them up against your office desk board for some daily inspiration.
Price: INR 169-599
Contact: +91 9880531361 or e-mail them at mithali@loveblacksheepflock.in
Check out their website here to place an order.
Follow them on Facebook here.
Comments