Chin Lung Got A Makeover But The Vibes And Prices Remain Old-School
The information in this post might be outdated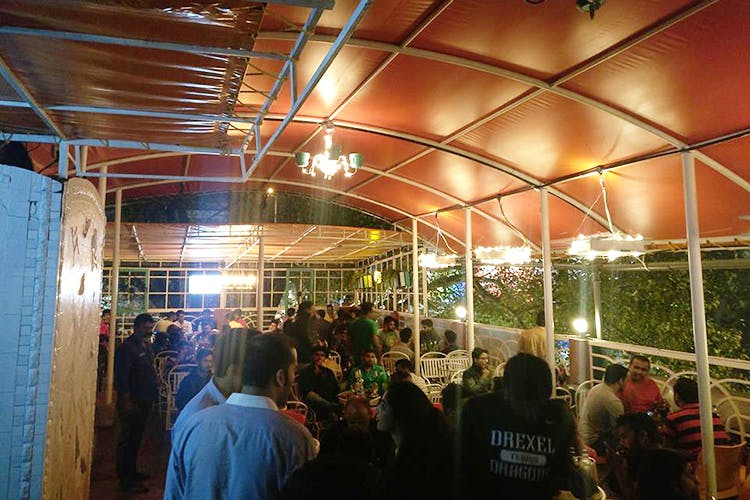 Shortcut
Chin Lung Resto-bar is a real throwback to broke college times and, with their newest renovation, totally worth talking about.
Chow Down
The garlic chicken and masala papad on their menu will go down in history for being everyone's favourite bar food!
Sip On
Old Monk and cola for old times' sake.
Winning For
Their new makeover and old prices!
Lowdown On The Ambience
So, back in the day, Chin Lung was a bar of three unusable floors with the fourth floor being an open rooftop. Extremely popular among college-goers, the bar was a go-to for cheap food and alcohol. We kinda ditched it post college but now, Chin Lung has totally revamped and got us heading there for a revisit. With chic industrial lighting, turquoise wooden dining chairs and a white picket fence along the side, the interiors are so much more inviting. The plastic chairs and tables on the roof have also been replaced with really pretty white metal chairs and glass tables.  They've also got random signboards around, one of which declares, "No Stupid People Beyond This Point". Just don't ask us how they ensure that.
Just Add Alcohol
Their food menu isn't very varied but they've got everything you'd want to pair with your drink. We strongly recommend the garlic chicken and, even though we can't see it on their menu anymore, you can ask for the lemon chicken, which is to die for. The paneer chilli and groundnut masala is also great bar food if you're vegetarian. If you're really hungry, they've got the the usual fare like rice, Indian breads and some North Indian curries. Now, Chin Lung is a bar, after all, so they don't have any fancy cocktails but you can get your favourite intoxicants with soda at dirt cheap prices. That's enough reason to go there.
So, We're Thinking…
Don't go here if you're expecting fine dining and wine. It's a great place to hang out with your friends and relive old memories while being super pocket-friendly.