The information in this post might be outdated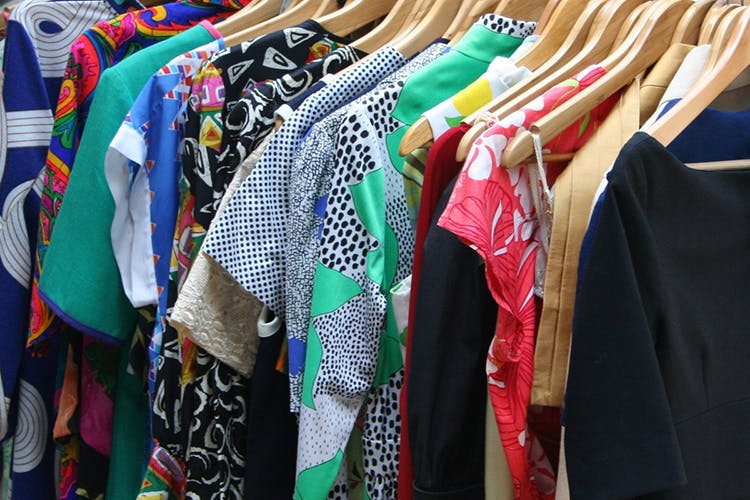 Save Earth, Swap Clothes, And Give Your Wardrobe A Revamp At This Cool Event
What Is It?
Thanks to GFX, an international platform promoting sustainability in the fashion industry, and Fashion Revolution, a not-for-profit global movement, you can update your wardrobe this weekend, and not spend much money, and also save the earth. How? Simple! It's a clothes swap event where you can simply show up with clothes (in mint condition) which you either don't wear much anymore, or haven't at all, and swap them for something that someone else has brought. It is a great way to pick up stuff that you may not have otherwise bought, and an even better way to get rid of all those unworn clothes in your own cupboard!
You can bring anything from one to 10 pieces of clothes (of course, no lingerie, socks or underwear, y'all!), and you'll get a coupon for each of those clothes. Then when the swapping begins, you can go haring around the space to pick what you want. Once you've picked your favourites, you can exchange your coupons for them. If there are expensive outfits, the team will tell you there that you need to give up two or more coupons for the merchandise you have chosen. But if the prices of the garments you gave in, and are checking out, are similar then it's one coupon for one piece of clothing. Got it? Great!
Who Is It For?
It really is for everyone, and everyone should be up for this because this kind of clothes swap only helps the environment. And who doesn't want sustainability, right? So to all you fashionistas and shopaholics who cannot go out and not return without bags of apparel, here's your chance to share your clothes with others. Don't let those beautiful dresses, skirts and trousers hang around gathering dust when they can be loved again by someone else! Men, you too. Don't think that only girls hoard. We've seen your 50 shades of green and grey and blue, polo shirts and tees!
Why Should I Go For It?
If your cupboard is bursting at the hinges, or the other side of your bed is taken up by a pile of hardly worn clothes, you best sign up for this one! Give them a new home, and in fact, go home with a new set of clothes to take up bed space! All the while saving the environment from textile waste. Of course, if you bring clothes, they must be in perfect condition. Remember, don't bring it in a state you wouldn't take it home in. Once the team checks the quality of your clothes, they will be registered and you will be issued coupons that you can use to check out your newly picked clothes. The swapping hours being at 3pm until 6pm, so it's three hours to swap till you drop! If you believe in a capsule wardrobe, and don't have anything to bring but would like to take pre-loved clothing, there is a fee of INR 300 to enter the event. It also gives you three coupons so it's still an investment. Serial shopaholics who want to take more than 10 clothes home, you can buy coupons for INR 100 each.
Oh, and just FYI, Bollywood actress Evelyn Sharma will be sending 50 pieces of clothing which you can nab at this clothes swap! See you there!
When: Saturday, April 28
Where: Lahe Lahe, 2906 & 2907, 80 Feet Road, Indiranagar
Price: INR 300 for entry, if you're not bringing clothes to swap. If you are, entry is free
Timings: 2pm to 6pm
Find out more about the event on Facebook here.
More Information
Lahe Lahe
Nearest Metro Station: Indiranagar
Comments