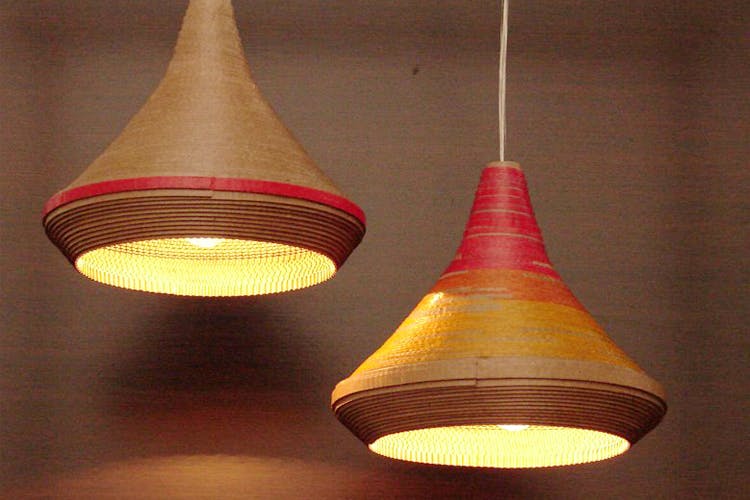 You Won't Believe The Pretty Lamps, Boxes And Bowls This Brand Makes From Just Cardboard
Shortcut
Giving boring old cardboard a fab transformation are these lamps, boxes, bowls and wall plates from Corr Beauty. Made with corrugated cardboard, Corr Beauty's products are pretty, unique and also functional.
We're On Board
Who knew that cardboard could ever look so good? Giving the heavy-duty paper a chic makeover, Corr Beauty is all about bringing out the beauty of corrugated cardboard through its home decor elements. From lamps to fruit bowls and coasters, they've really given the humble cardboard an elegant and artsy edge. The brand's lamps are perhaps their most intricate products and look splendid when the lights splash through its grooves and meshes. Their boxes are a huge upgrade from the run-down and drab cardboard boxes that we're so used to. Round in design, with a pop of colour, these are perfect to use as jewellery boxes or to chuck your keys and other trinkets into. Corr Beauty's fruit bowls also have our attention for its offbeat look.
All of Corr Beauty's products are made with fresh corrugated cardboard and glue and pieced together by hand. With prices starting at just INR 300 for their wall plates and the lamps starting at INR 1,500, they're well within reach. Since all their stuff is made to order, feel free to get it customised and pick the colour scheme and size you want. You can pick up some of their merch from Purple Turtles in Indiranagar or place your orders online through Facebook here.
Out Of The Box
A four-year-old venture now, Corr Beauty has been in the business of transforming corrugated cardboard into conversation starters for a while now. It all started when founder, Mita Majithia, quit her day job as a software designer to pursue her dream of interior designing. Always fascinated by cardboard as a medium, she made a chair from recycled cardboard a few years ago and never looked back. Although she doesn't make cardboard furniture anymore, her lamps, coasters, fruit bowls, wall plates and boxes are no less interesting and very durable too. So go ahead and add one of her creations to home sweet home.
{Calling all brides (and their tribes!) – From clothes to gifting, get all your wedding inspiration here. #HitchedWithLBB}
Comments