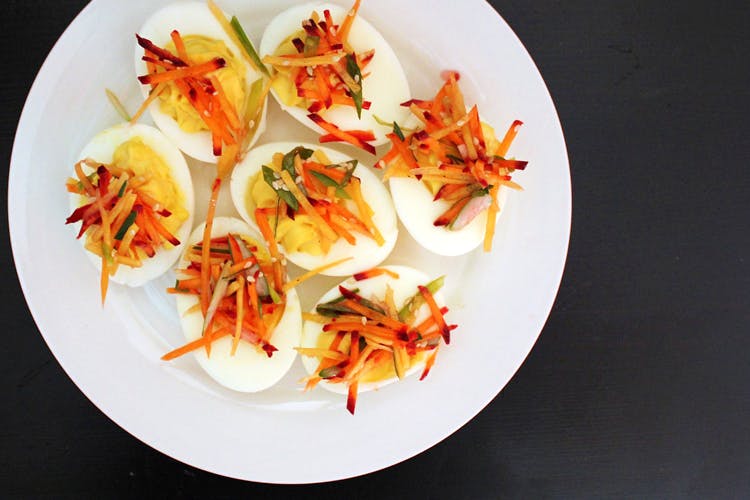 The Ultimate Egg Dishes In Town: They Really Are Eggcellent
You may call them eggs, andas, huevos, mottes or œuf, but you can't deny how much we depend on this fragile little ingredient. Whether you love it classic poached, scrambled with chilli or decorated with bacon bits, there's always scope to eggs-periment. So we got eggs-cited and took it upon ourselves to crack the egg trail in the city. No matter when you choose to have them, here's LBB's pick of egg dishes that will make you clucking happy!
LBB's Loving
Smoke House Deli
Readers' Vote
The Egg Factory
The Egg Factory
While this is the first and obvious choice, it's a folly to leave The Egg Factory off such a list. Whether it's the Spanish style omelette, the desi bhurji or the Not So French Toasts, these guys do it all. They've even started Oyako Donburi-style servings which is a single bowl meal. Try the Anda Murgi Kheema which comes with parantha.
Find your nearest The Egg Factory here.
Price: INR 100 upwards
A Hole Lotta Love Cafe
Breakfast plays a very important role at this cutesy café. Naturally, so do eggs. Pick from the OMGlettes that range from salami and sausage-stuffed ones to a mushroom and jalapeño version. Or blindly order the Golden Frittata Mix – a solid four-egg omelette with mushroom, onions, jalapenos, spinach, capsicum, basil and cheese.
The Hole In The Wall Cafe
Pretty much the same menu as A Hole Lotta Love, this is the original café. Apart from the breakfasts, we'd kill for their Red, White and Blue omelette which is chicken, bacon, tomato and blue cheese neatly tucked into a two-egg omelette. If that's not enough, then pick the Pizza Omelette which is a base of four-egg omelettes loaded with pizza topping, cheese, olives and pepperoni.
Smoke House Deli
Skillet fried eggs are the in-house specialty and are smokin' good with a choice of Bacon, Parmesan and Asparagus or Chorizo and Sausage, among others. But for us, it's all about the Eggs Benedict here. Fluffy muffins, soft eggs and salmon make us very egg-cited and you should try them pronto if you haven't already.
Smally's Resto Bar
Known for burgers, there's no reason why you should bother with anything else but The Egg Burger, which is spiced up egg bhurji in buns. Served with potato crisps and a minute side of salad, it's the best option here and one of the egg burgers we actually approve of.
Red Fork
Yes, their poached, scrambled and omeletted eggs are stellar. But if you're smart, like us, at this Parsi hotspot, you best order Akuri. Getting it spot on over and over again, you can count on the eggs being just done and never overcooked, with perfect flavours of ginger, masala and pepper. Let's just say they get it egg-xactly right all the time.
Social Offline
Andas Apna Apna is your best bet here. By the time you are done laughing at the quirky name, the breakfast tray of eggs and toast will be at your table. Pick from all kinds of creations like Railway Station Omelette, Akuri, or even half fry. If you want more than just brekkie, try Anda Shammi. A traditional Shammi kebab with cheese and red onions, stuffed into a pao with two eggs on top of it, it is a great spin on the vada pao.
Monkey Bar
Upping the quirk factor as usual, Monkey Bar presents the Aam Admi Eggs. Really though, it isn't very aam. Crunchy Texas toasts is the base on which chatpata eggs tossed with chillies, tomato, imli and onion seed chutney, come loaded onto. Perfect for a brunch, we think. Or an afternoon snack too.
Tried something super delicious elsewhere? Let us know!
Comments