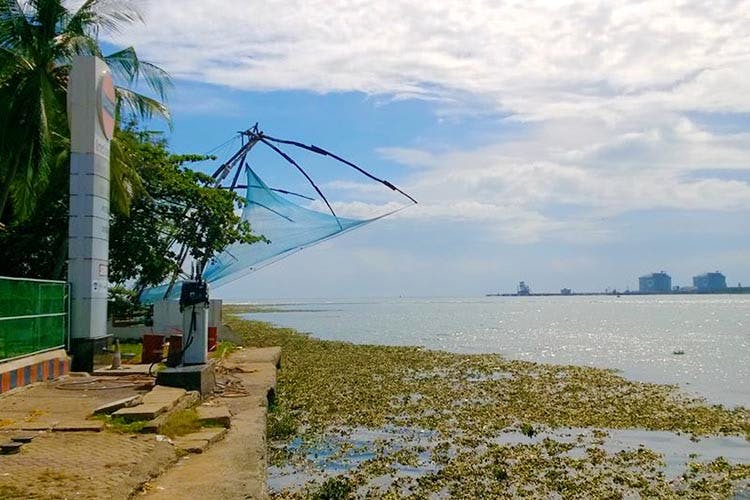 6 Reasons Your Next Family Vacay Needs To Be In Kochi
Ayurvedic massages, spicy curries with hot appams and the backwaters of Kerala are signature tourist experiences for a reason. However, the port town of Kochi has a lot more to offer.
If you're planning a trip to Kerala, start here and pen down an exhaustive itinerary of things to do during your stay in Kochi.
Fort Kochi
Also known as Old Kochi or West Kochi, Fort Kochi demands at least a full day of your Kerala trip. Start by checking out the only two churches left standing in Fort Kochi. Built by the Portugese, Santa Cruz Cathedral Basilica is located right in the centre of town and is a prominent landmark; its white exteriors are deceptive because the church's walls are covered with colourful frescoes and paintings.
Move onto the St. Francis Church which is actually the first church built by the Europeans in India and its most prominent feature is that it houses the erstwhile resting place of legendary explorer Vasco Da Gama.
Tea-totallers, check out Teapot Café at Peter Celli; they have a stunning display of 100 different kinds of teapots and tea chests that double up as tables. Stop to pick up souvenirs, knick-knacks and jewellery on Princess Street, aka Loafer's Corner.
P.S. All that sightseeing will probably make you hungry, so we'd definitely suggest getting a flaky, Malabar paratha kathi roll at Dal Roti.
Jew Town
Close enough to Fort Kochi, Jew Town is famous for spice shopping, stealing a moment of quiet at the Paradesi Synagogue and picking up local handicrafts and souvenirs while walking through this part of town.
P.S. This is a conservative part of town, so dress accordingly.
Kodanad Elephant Training Centre
Kodanad Elephant Training Centre is one of the largest in Kerala and is an hour away from Kochi. The training centre has recently shifted to Abhayaranyam at Kaprikkad, but that's only about 3 kms away from Kodanad. Get there early – by about 7.30am, the elephants come out to play, bathe and feed, and the experience is worth the crack-of-dawn wake up call.
The Athirapally waterfalls, located in Thrissur district, are known as the Niagara Falls of India, so we'd definitely recommend the two-hour drive to go check them out.
Kochi Folklore Theatre & Museum
A slice of Kerala's rich cultural heritage, Kerala Folklore Theatre & Museum comprises three floors, each done up in the architectural styles of Malabar, Travancore and Cochin. Masks, manuscripts of medicinal and astrological secrets, traditional dance costumes and jewellery as well as artefacts from the Stone Age are all preserved with care at this not-for-profit organisation.
Stage shows are scheduled regularly, and they usually begin at 6.30pm, so make sure you plan to catch an authentic, breath-taking performance while you're here.
Scuba Cochin
One of the first PADI-approved dive centres in South India, Scuba Cochin is the perfect place to dive in and take that scuba certification course you've always wanted. In addition to organising daily dive trips between 9.30am – 4.30pm, they also offer certification courses from open water diver to instructor.
This one is definitely on your bucket list, right?
Hill Palace
Once the residence of the Royal Family of Kochi, Hill Palace is located at Tripunithura and is the largest archaeological museum in Kerala. Spread over 52 acres of land, the Hill Palace complex includes 49 buildings and showcases oil paintings, murals, coins and inscriptions that belonged to the Maharaja of Kochi.
Don't forget to check out the deer park and horse-riding facilities at the Hill Palace as well.
Comments