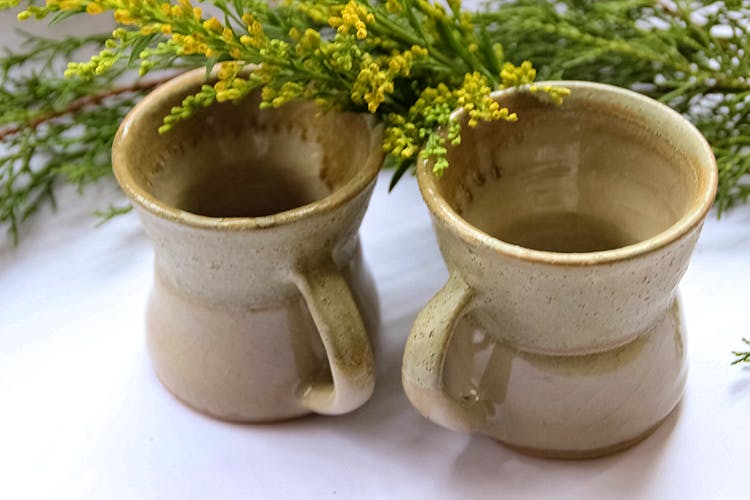 #GoHereShopThis: Ceramic Chai-Coffee Mugs From World Art Community
Shortcut
There's something that endears us to things that are fresh off a potter's wheel. This is why these mugs in earthy hues and with perfect imperfections are making us redefine our ChaiTimeGoals.
Go Back To The Stone Age
Once you're done browsing, you can thank the good folks at World Art Community for bringing the best potters and ceramic artists to us for these stoneware beauties.
Most of these glazed cups in browns, ochre, blues, blacks and olives have been clay fired so they can withstand microwaves. The many designs, shapes and sizes also pose perfectly for Instagram photos. This one, for instance, is making us dream of our next vacation by a sandy beach.
We're also eyeing this Misty Moss Cup with a clinched waist and this set of six for those rare occasions when our friends come over for something other than beer. For hot chocolate in the blanket, we're rooting for this pair.
After all, a storm in a teacup isn't always a bad idea. Neither is a mug shot for that Tinder profile.
Complete The Setting
What's a coffee corner that doesn't allow you to reflect on life's many ironies as you gaze out of a French window? Sorry, but we can't guarantee a window. What we can tell you, however, is that you can buy great artwork here and a bean bag here.
Once you have these two things sorted and your hands wrapped around this gorgeous coffee mug, you can just soak in the caffeine-induced bliss.
Shop online here.
Price: INR 500 upwards
Comments