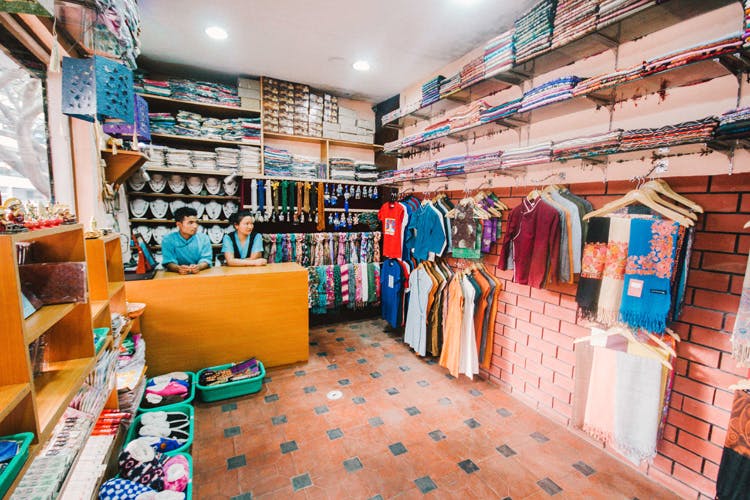 Check Out The Himalayan Inn For Your Zen And To Keep The Tchi Happy
Shortcut
A hotel around the Double Road corner in Indiranagar, the Himalayan Inn has a souvenir store that houses everything hailing from the hills.
Gifts From A Land Far Away
The store is full of small trinkets perfect to either collect or gift. Especially if you've just returned from a trip to the North or North East and forgotten to bring back prezzies! Their collection of hand-woven stoles in plain but cosy-looking colours and some hand-embroidered are our picks. They also have a collection of incense sticks that are used by Buddhist monks in monasteries. You could use it for just the fragrance, if not for anything else. Our vote goes to the lovely Buddhist prayer flags that you can adorn your house with for some Zen vibes, and mesmerising prayer wheels made of carved wood and metal if you are looking for a spot of calm.
Being Zen
There are also earrings and crockery hand-made with Murano glass — so delicatel. Lovely chubas, the traditional dress of Tibetan women is also available here in case you're thinking of giving your wardrobe a twist. Half chubas are also available so you can wear them with leggings. Diaries, pocket books, Tibet-inspired tote bags made of jute, organic graphic t-shirts, fuzzy woolen bedroom slippers, Thukpa bowls and cups and saucers inspired by lucky symbols of Buddhism are other things worth visiting this store for. If you're tired, right next door is a small cafe where you get, well, Tibetan food! Do try the steamed chicken momos, you'll want to return to the hills soon enough!
Price: INR 50-3,000