This is an archived or old post. The information might be outdated.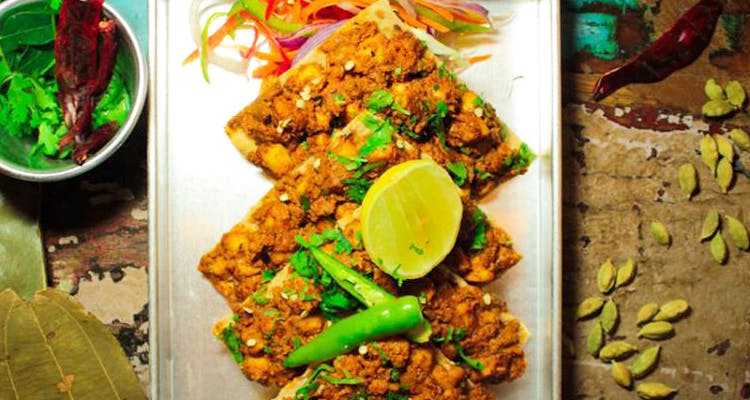 Horn Ok Please: The City's First Dhaba-Style Gastropub
Eat
Aam Murgi Party, Murgh Malai Marke (stuffed puris), Pathar Late Than Never, Brahm-Achari-Pun-Neer Paratha Disk
Drink
Mirchi Da Passion, Body Builder
Winning for
Cocktails with desi twists, hearty starters and budget prices.
What to drink
We tried the rather refreshing Body Cooler, a concoction of sugarcane juice, jal jeera and vodka, garnished with fresh coriander. The Mirchi Da Passion: whiskey, passion fruit juice, lime and green chillies was a hit with us because of  the tart fruity flavours complimenting the heat of the green chillies and the pungency of the whiskey. The Amchoor (vodka, aam panna and chillies with a hint of cumin) was another cocktail we tried, but we have tasted a far better version of this cocktail at another city gastropub.
What to eat
Try the Murgh Malai Marke here, Butter Chicken lovingly stuffed into mini puris, that resemble crispy pani puris but are actually whole wheat puris (the aloo puri kinds). The Aam Murgi Party, is a lovely light salad made with raw mangoes, onions, bell peppers and Chicken Tikka bits, all dressed up with mustard oil and lime. We loved the Pathar Late Than Never, stone-cooked and grilled lamb kebabs (so succulent) rolled up into Roomali Roti squares. Though the Jhinga-La-La Samosa (samosas filled with prawns) didn't quite cut it for us because samosas need pliant potatoes or robust meat, not delicate prawns. Their Paratha Disk Section (parathas cooked till a crisp and topped with paneer, chicken or fish) is also worth a try. Plus points to the cheesy garlic dip to dunk your paratha triangles into.
The DL on the ambience
Truck art, colourful furniture, and some tongue-in-cheek posters (proper filmi style) make up the not-so innovative decor here. But when you are laughing yourselves silly by reading aloud the menu full of pun-intended dish names (Das Vi Dhanya or Lauki-Bal-Boa anyone?), you won't really have time to notice the usual balle balle cliches.
So, we're thinking...
More than the mains here, we'd say concentrate more on the desi cocktails and quirky starters. Value-for-money pricing also ensures that you can order a large number of starters to be shared with your friends and family.