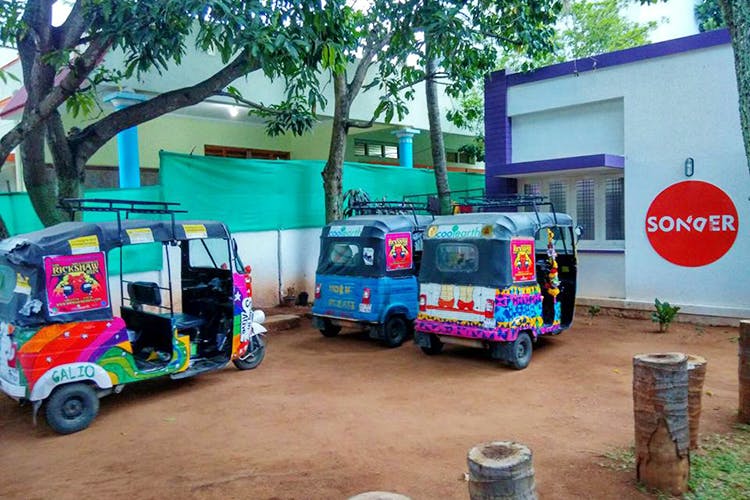 Heading To Mysore? Check Out This Budget Hostel, Which Is A Steal At INR 550 A Night
Shortcut
A convenient location and a calm ambience, Hostel Sonder is an ideal pitstop for a traveller looking for a comfortable stay and budget accommodation with no compromise on the service as well.
Location Is Everything
Located just 3.4 kilometres from the city railway station, Hostel Sonder is a perfect place to stay for backpackers, travellers and groups looking to have a quick night's stay in between checking out the culture of Mysore. The house is a nice comfortable place, with bright colours and a load of amenities provided as well. There is also a swing outside in the garden, where you can sit for hours and read a book or just chill. Inside, there's a lot to do as well. You can watch TV, use the free Wi-Fi and maybe watch a movie, or just hang out with a couple of friends or maybe even make some new pals.
And if you're sitting down, you can actually sit on tyres that moonlight as funky seating or on one of the beanbags. You can partake in some yoga for activities, and stretch those muscles and calm your body. Or, you could play some board games with other hostel folks and your friends. And, if you feel like, you could learn how to make some authentic Mysore food from the in-house cook or just make your own munchies! They even have a chalkboard where you could try your hand at a few drawings and have other art material for you to get creative.
A Budget Stay
The hostel has options of a six-bed mixed dormitory or a four-bed all-female dormitory. All bunks come with linen, blankets, plug points and lamps as well, for some late night reading. The dorm walls are painted in bright blue and one is in bright red and all dorms are air-conditioned. The price of a bunk is INR 550 a night but, that might change if there is a lot of demand.
Of Palaces, Zoos & Gardens
Around the hostel, there are loads of things to do, to sightsee, to explore and finally to wine and dine. The Sri Chamarajendra Zoological Gardens are nearby, sprawled over 157 acres with exotic animal species including five green anacondas and the highest number of elephants in any zoo in India. Equally close is the Mysore Palace, a chance for you to explore the rich culture and heritage of Karnataka and its past. About 20 kilometres away are the Brindavan Gardens, a popular spot near Mysore, where you can walk through acres of lush greenery, musical fountains and do boating.  And if you are a true adrenaline junkie, then jump off from an aeroplane 10,000 feet in the air, and try your hand, with the help of Skyriders, by Skydiving at the Mysore airport. You must also pay a visit to the RK Narayan Museum, where you can plunge straight into the life of the veteran novelist, and explore his works, his personal life and some sketches on the ever so popular Malgudi Days.
Mysore has adapted to the healthy, clean eating and even has a few vegan restaurants in its repertoire. Head to the Depth N Green Cafe for the fresh, vegan food and even some chocolate chip cookies. You could start your day here with their omelettes or maybe even try the rolled oats with honey and nuts. Savour the thali, complete with brown rice, daal, roti, sabzi, salad, sweets and raita and pair it up with a selection of their smoothies and juices. If you feel like a pizza, head to The Old House, a vegan cafe with a cool ambience perfect, for a book and a coffee. You could even take a souvenir back with their range of coffee and preserves from Coorg and Ooty. Also, go to the Cafe Aramane, for some authentic Karnataka breakfast, including idli and dosa and top that all off with a nice, strong coffee.