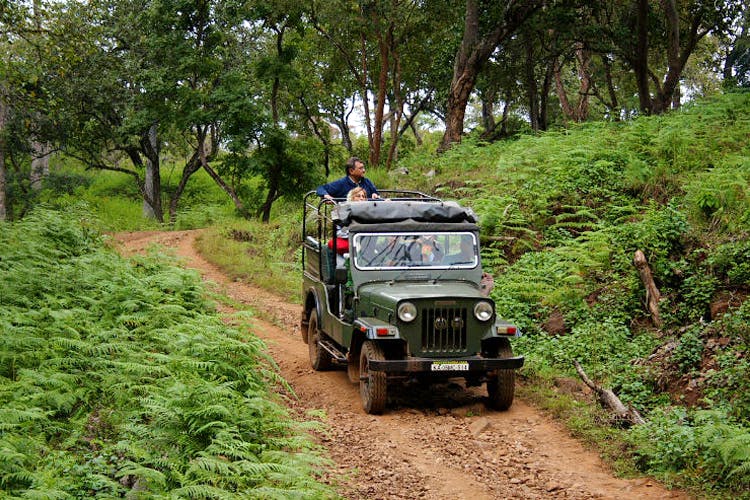 Morning Safaris, Log Huts And No WiFi: Take To The Great Outdoors At This Nature Camp
Shortcut
Jump into the wild by staying in the log huts at the Kyathdevaraya Gudi Wilderness Camp where you'll have elephants, gaur, tigers, and leopards for company.
Adventure Is Out There
If it's a clean break from city life you're looking for, escape to Kyathdevaraya Gudi Wilderness Camp in Chamarajanagar. Set on a hill, in the middle of the forest, get up close and personal with nature and wildlife while you're here. This is definitely not for the weak at heart as you'll be living in the jungle, literally, and chances are that leopards, boars or deer might stop by to say hi. But if you're a nature lover, it doesn't get much better than this.
With jungle safaris happening twice a day, once at the crack of dawn and later just before dusk falls, there's no shortage of excitement at this camp. Love to birdwatch? If you're lucky, you'll spot around 250 species, including the velvet-fronted nuthatch, blossom-headed parakeet and the Malabar whistling thrush. Needless to say, the place is surrounded by lush forests, which is a nice shift from the concrete jungle we're so used to.
Jungle Nights
Apart from chilling with the flora and fauna, go on nature walks, trek up the hills nearby and even catch a wildlife film screening at the camp. When the evening rolls by, get ready for a campfire with barbecue at the Gol Ghar, which is their dining space. If you're planning to stay a while longer, the camp will even arrange for a trip to the Biligiri Ranganathaswamy Temple that's situated on the edge of a cliff atop the hills.
In true camp style, you can either stay in log huts or tented cottages. It's a simple yet comfy set up complete with beds, cupboards, tables and a nice porch. But you will have to rough it out a bit here as electricity is only available for part of the day. Yes, that means there's no WiFi or cell service. So you truly will be cut off from city life, and are thrilled for it! Situated in the Chamarajanagar district of Karnataka, that isn't too far away from Mysore, the drive to the camp is only four hours long, and the road trip there will be an adventure in itself. So the next time you want to catch a quick break, head down to Chamarajanagar for a wild time.
More Information
Kyathdevaraya Gudi Wilderness Camp
Comments