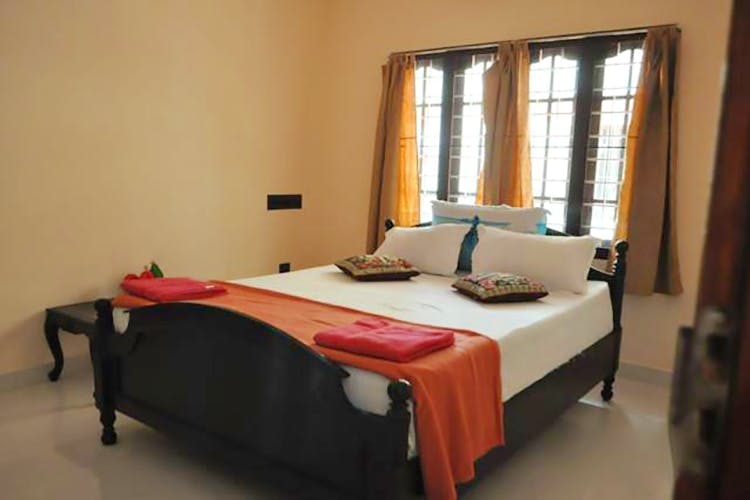 Le Linda Homestay In Kochi Is Perfect For You And Doggo, And There's Good Food Too!
Shortcut
Stay at Le Linda homestay in Kochi and experience hospitality like no other – with the ever helpful host and amazing cook Linda. Le Linda is both secluded and within easy access to the city. Plus, the homestay is pet friendly.
A Home Away From Home
Located near Fort Kochi beach, Le Linda homestay is run by Linda Nicko and her family. The simple, pristine white exterior of the house is a welcoming aesthetic, something you need after the 27 kilometre ride from the airport. Linda makes you feel at home from the moment you enter, and takes care of you till the time you leave. The house has five bedrooms and can accommodate 2 people in each room comfortably.
The house has a very rustic and simple vibe, and look to it, well equipped with all facilities one might need for a night's stay or two. The house has single double and family cot rooms, which come with an attached bathroom. All rooms are minimally done up, adding to the overall decor of the house. The house is located a short distance from the street, so you have your peace and quiet, just as you like it. But it is still centrally located and thus is convenient side by side. Relax in the indoor lounge area, or take in some fresh air in the balcony and even treat yourself to an Ayurvedic massage, since Linda is trained in Ayurvedic massage. In short, this place is nothing short of Nirvana.
Nirvana
Speaking of Nirvana, you need to eat. And Linda makes sure you do eat, a lot. Any food can be made on request and there's even a cookery class that you can take! Learn how to make some authentic Kerala food and then feast on it after. The house also comes with free Wi-Fi, AC and laundry facilities. But the best part is that all of this fun can be shared with you and your four legged furry friend as well, since this home is pet friendly! Breakfast is included in the room rent.
Kathakali, Bharatnatyam and even Kalaripayattu classes and shows can be organised on demand and the homestay will book it for you. Want to explore Kochi's stunning backwaters? Le Linda's organises trips for guests as well. Rent a scooter and explore the city or plan a trek — this place takes care of everything for you.
A single room costs INR 1,300 and a double room in this homestay costs around INR 1,500 and for that amount, what you get makes it an absolute bargain of a deal!
Nirvana's Neighbours
If you're thinking about venturing outside the homestay, walk to the nearby Fort Kochi Beach and relax in the sand. Visit the Jewish synagogue, the oldest active prayer house in the Commonwealth of Nations. Take in Kerala's architecture by a trip to the Mattancherry Palace and explore its large number of murals of Hindu culture.
Catch a bite at the nearby Kashi Art Cafe, with it's modern European menu, all day breakfast and mean chocolate cake.
You can book a room in the home here.
#LBBTip
Keep your dates flexible, you might want to stay here an extra day.
Comments