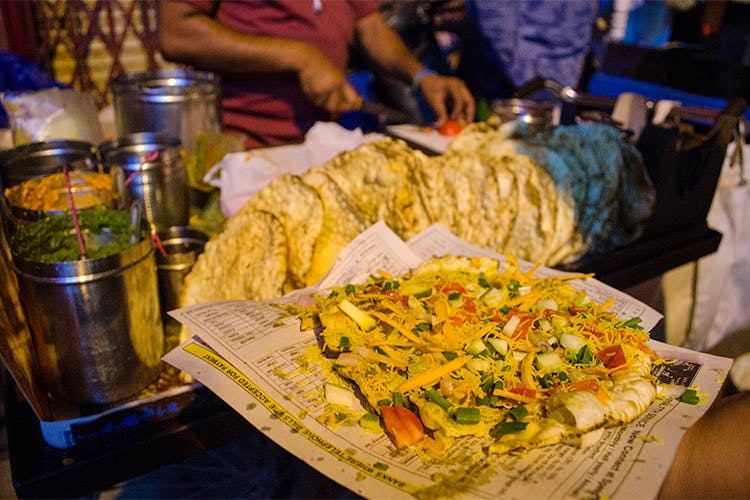 Not All Heroes Wear Capes: Meet This Masala Papad Man, The 4 PM Hunger Saviour
Shortcut
We found bae and he only makes what we love the most — masala papads! Ashish at Avenue Road makes masala papad that's crispy, crunchy, tangy, spicy, and full of flavours. And it's for just INR 20.
The Papad Superhero
Imagine our surprise when on one of our food walks, we ran into this small roadside cart that was roasting papads in millions. Curiosity and that roasted aroma drew us to discover one of life's greatest joy — the masala papad. Our love for this 'appetiser before every meal' is endless and we are the kind of people who quickly devour them at restaurants even before its served on our table. And we are also the kind of people who totally judge a North Indian restaurant that doesn't serve one.
Our bae Ashish also thinks along the same lines. Papads fresh out of the barbecue is brushed with mint and spicy chutney before adding the chopped tomatoes, onions, and cucumber, and a dash of lime. The papad unlike the regular Lijjat version that we are so used to, are made from potatoes, so they are thicker and crunchier. Garnished with sev, Ashish crushes the papad just before serving so, you feel like you're eating a pizza.
Priced at INR 20 bucks a papad, this is the perfect evening snack when you are out shopping at Avenue Road.
More Information
Masala Papad Man
Nearest Metro Station: Sir M. Visveshwarya
Comments