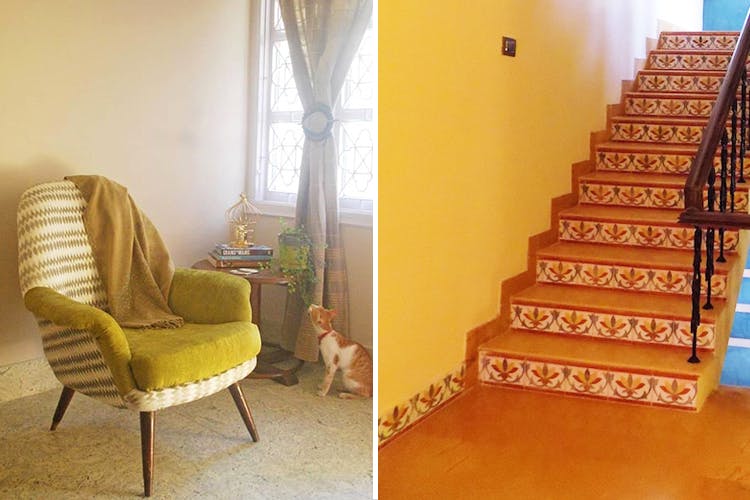 Get Your Grandpa's Armchair Refurbished, Courtesy Architect Durga Shetty
Shortcut
Durga Shetty, of Mayan Designs, specialises in vernacular design and also vintage furniture restoration. If you want to resurrect your Grandpa's old chair or add Chettinad pillars to your home, give her a call.
Good As New
Shetty, a trained architect, has plenty of experience in the field, having worked in countries like Canada, Bahrain, and India. She's built modern and luxury spaces but on her return to India, she found that vernacular design was her true calling. Local, off the soil design and architecture is what inspires her.
This means that you can approach her to either add just a splash of the traditional to your space or work with her to redo your space to showcase vernacular elements. Have a piece of old furniture that needs to be restored or even if you want something upcycled to suit modern needs? Shetty has plenty of experience. Recently, when a friend approached her with a derelict grandfather chair, she got reupholstered and refurbished so that it looked like brand new without compromising on the old-world charm of the chair.
Home Game
For those of you looking for more obvious changes in your home or office, Shetty can offer solutions there too. She, along with husband, runs Mayan Designs — an independent firm in Sanjay Nagar. In the past, she's reworked even modular spaces to accommodate Indian touches. For example, she has added stunning Kalamkari fabric to decorate door posts or added textures to a space with different kinds of retro tiles.
In a modern apartment, she can reproduce Chettinad pillars and adorn them with twinkling Channapatna tea-lights, to give your home a feeling of warmth and plenty of vintage glamour. She can also convert sleeper wood into dining tables and other pieces of furniture.
Comments