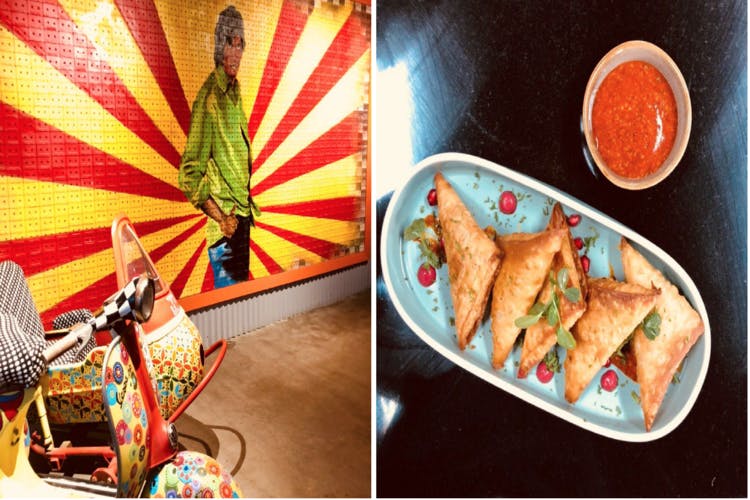 Nearest Metro Station:

Sampige Road
Bollywood Vibes, Dramatic Decor And Amitabh Bachchan: This New Vegetarian Restaurant Is All Kinds Of Quirky
A fun, and full of live restaurant, all you Kumara Park folks have much to rejoice with the opening of Housefull. Dramatic, bright and with all those Bollywood vibes that bring a space alive, this one's all out vegetarian and doesn't serve alcohol. Finally, a place to enjoy with the family, without having tipsy people all around. We love how Big B Amitabh Bachchan welcomes you to the funky restaurant, and the colourful and filmy touch doesn't end there. We spotted super cute sewing machines, chequered chairs, grill-style bar walls, and even a hippy scooter with a sidecar. Naturally, we felt like we were back in the 70s and 80s, humming songs from Bollywood blockbusters, and feeling like flower children.
From the makers of MISU, and the quirky The Open Box, it is no wonder that this place too, is lively, different and perfect for a fam jam. Vegetarians, this is your time in the sun, as it's a completely vegetarian place but has offerings from India, Italy, America and the rest of Asia. We can't wait to sample Cheeseling Bhel, Bournvita Kulfis, dim sum and samosas with a twist. There's also interesting non-alcoholic beverages which we're waiting to try. Did we mention there's a Jain selection on the menu too? Plus, the Instagram obsessed among us is going all kinds of crazy. So many places to get those perfect images.
Watch this space for more…
#LBBTip
They're open only for dinner until the end of March.
Comments
Nearest Metro Station:

Sampige Road