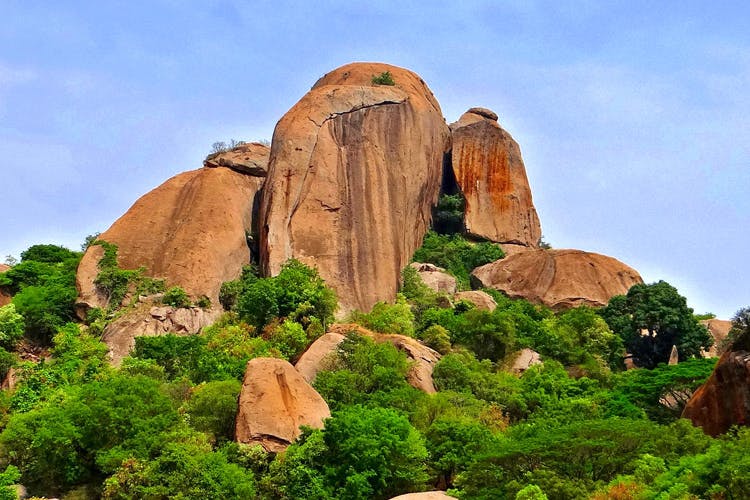 Rock Climbing, Bird Watching And The Sholay Hills: What To See And Do In Ramanagaram
For many Bangaloreans, Ramanagaram is a regular pitstop on our way to more glamorous destinations like Mysore or, even, Coorg. However, if you have just a day in hand and want to get out of the city, Ramanagaram has a lot of things to do. The small town, whose claim to fame was really Sholay, and the rocky hills that surround it have a steady stream of visitors looking for a fun day out. You too can join the brigade and sign up for adventure, a serene picnic, or explore Gabbar Singh's former lair.
Reach The Summit
For the adventurer, Ramanagaram is ideal. For a few years now, trekkers and rock climbers, especially, swing by to explore the hills that surround this town. The terrain here ranges from easy to tricky, so, you can sign up for an experience here whether you are a pro or a novice. With adventure outfits, you can also try your hand at rappelling or night-time hikes. Among the many hillocks that surround Ramanagaram, the Ramadevarabetta is popular with adventure enthusiasts. Once you reach the top, you can even explore a cluster of temples dedicated to Lord Rama, Sita and Hanuman.
Birds Of A Feather
Ramadevarabetta is a favourite with bird watchers too. Equip yourself with a pair of binoculars and head out for a day of spotting gorgeous winged creatures. Indian Robins, Ashy Prinias, Laughing Doves, and Kingfishers are common here. But what you should look out for are the Long Billed Vultures. An endangered species, the vultures nest in the hills in this area and make for a thrilling sight.
Picnic By The Reservoir
Sandwiched between Ramanagaram and Channapatna is the Kanva Reservoir. While it is fairly well-known, it doesn't get overcrowded and you can still manage a quiet picnic by the waters. Spend a day relaxing and also exploring the rich birdlife when there. However, if you want a day packed with activity, do carry a frisbee or board games from home.
On Gabbar's Trail
Ramanagaram's claim to fame is that it served as a backdrop to one of Bollywood's biggest blockbusters — Sholay. The 1975 film was extensively shot here and an entire village set was recreated just outside the town. Today, this stretch of hills is even referred to as Sholay Hills. If you are an avid fan of the cult classic, pack a camera and recreate scenes from the film here. Guided tours are rare so you may have to rely on your instincts and research here.
Get Folksy!
The Janapada Loka is one of Ramanagara's star attractions and is right on the Bangalore-Mysore Highway. It showcases the folk arts of Karnataka and houses more than 5,000 artefacts. You can amble along the many wings of the expansive museum and discover everything from traditional instruments to sculptures, age-old utensils, handlooms, and even recreations of rustic homes. Get here early in the morning so that you can avoid the crowds and make most of your time here. 
Eat Street
No outing can be complete without food, can it? While you can't expect a gourmet lunch here there's quite a variety you can choose from. On the Bangalore-Mysore highway, Kamat Lokaruchi is a top pick. Drop by here for a South Indian breakfast staples in the morning. Their cylindrical idlis, crispy dosas, and vadas are popular. They also serve a breakfast buffet. For lunch, their North Karnataka thali is a must try. However, this place is immensely popular and you may have to wait for a table if you are travelling on a weekend or a public holiday. In Ramanagaram town, there's Taj Biryani Paradise that dishes out delicious meaty treats.
Comments