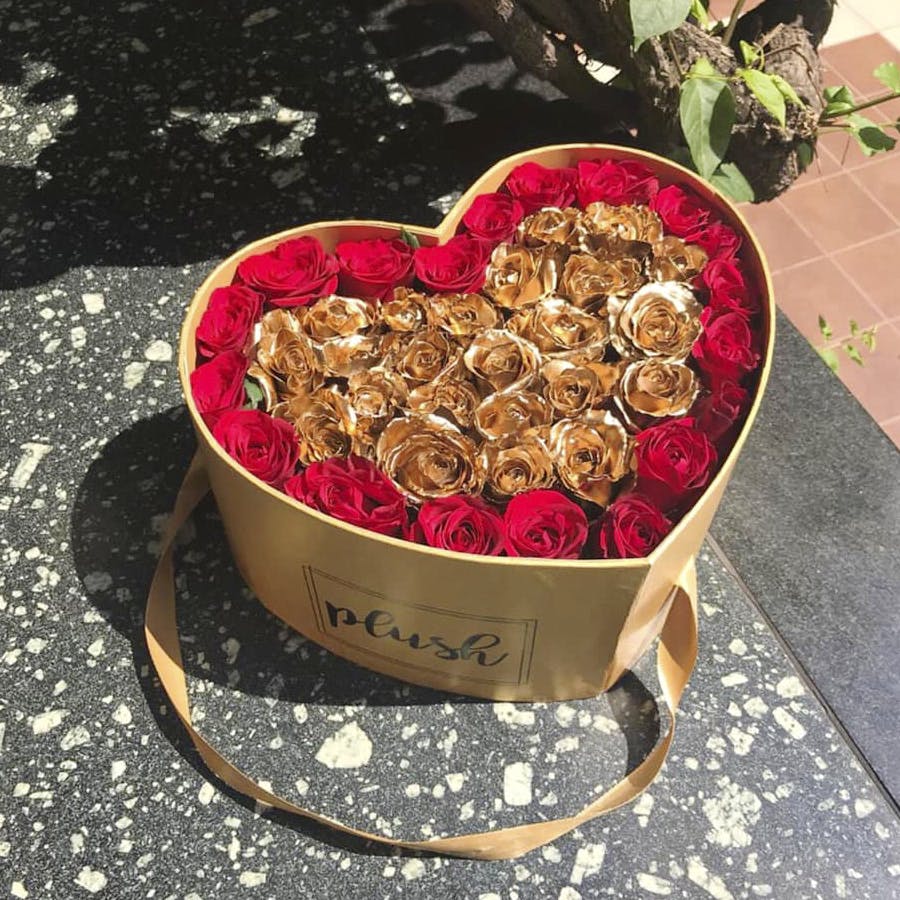 Say It With Roses: Spread Some Love And Order Flowers Online For Bae!
Don't know how to articulate how you feel (we're talking about love) about someone? Say it with flowers! If going to the florist is too much of a hassle for whatever reason, worry not! Bangalore has multiple online flower delivery services whether you're looking to profess your love to bae, bff(s), or even a family member. Be it real, fake, or exotic (now we're talking about flowers), here's a list of places that understands flower power always wins.

The Flora
An eco friendly flower delivery service, The Flora sends freshly cut flowers, arrangements, and DIY kits home (do it up by yourself and give present them them in person), with no plastic packaging. Arrangements are fully customised, and take it notch higher than getting a particular type of flower be it carnations, lilies, hydrangeas or orchids. Want a bouquet in bae's favourite colour? Done. Need a theme like pastel, tropical, or wild? Can do. The best part? It doesn't have to end this month, you can subscribe for weekly or monthly deliveries too!

One Roze
A luxury floral concept boutique, One Roze has a penchant for roses, and we don't just mean the usual red. Find pastels, bright hues, and two toned variants. What's more is that they have exotic flowers like eustomas, orchids, and Asiatic lilies too, and will incorporate it into the arrangement. The arrangement itself can be customised to be in a patterned box, Parisian hat box, or a tree branch for a rustic feel. You can go the distance and include other artisan and luxury nick knacks with the arrangement to make a nice Valentine's Hamper.

Interflora
Keep things traditional with regular bouquets and arrangements with Interflora. The hand tied bouquets are sure to put a smile on the receiver's face. Of course if you don't want a regular bouquet, you could send across a basket reminiscent of spring, or summer, or an arrangement of 100 roses! Delivering across the country, and even internationally (long distance couples reading this, say aye!), the arrangements are delivered within 48 hours. Within India, if you order by 6pm, it could be delivered on the same day.

Flower Foundry
A luxury boxed rose brand, the Flower Foundry delivers them in satin and velvet boxes, keeping it classy and elegant. Delivering across Bangalore, the brand also does arrangements with carnations, lilies, and orchids if you're looking to mix things up a bit. Doing shaped orders (specifically, the heart), and ones with a number (if you're celebrating a reasonable milestone). If bae isn't a flower person, worry not, they also take orders for Bonsai and the trendy (and pseudo-flower) moon cacti, if you're looking for something to nurture like your love, to watch it grow.

Ambrose
Keeping things classic, Ambrose delivers all kinds of roses. We mean, apart from red, there are hybrids in dual tones, royal blue, silver, gold, and even black! You read that right (for your goth bae), and they have 'everlasting' roses that can last up to two years in a glass box, like your everlasting love (or get a red one for some Beauty And The Beast feels). And if you want to stand out, ask them about peonies or tulips. Make it a hamper with bonbons, bath and body care items, mixtapes and even wine to share!
Plush Roses
Another boxed rose brand, Plush arranges roses in clear or opaque boxes and cuts the stems accordingly. Order a minimum of 16 roses, and a maximum of how much you love the recipient (we joke, but they have an option of 100 roses in a box). Get it arranged based on colour, gradient (ombre or contrast), shapes, or messages of 'I love you' with a heart, initials, or a number in contrasting colours. The cool thing about boxed flowers, is that you don't really have to worry about watering them as they do just fine on their own.

Alankaara Floral Jewellery
Slightly different from the others, Alankaara lets you immortalise your favourite flower(s) into wearable pieces of art. The flower of your choice is usually dried out and preserved in clear acrylic, beautifully preserved like an amber fossil. Largely making them into jewellery, they also do keychains and paperweights, for all you flower children who don't accessorise. Either check their stock on the website, or send them the flower of preference for custom orders and they'll do their magic! Not just flowers, they'll happily oblige if you send them pretty leaves and foliage.

Ferns & Petals
One of the first online flower delivery services (before the days of Dunzo, and other apps dedicated for it), we're certain that nearly everyone has at least seen, if not used it back in the day. You can place the order at the store for any flowers (real or fake) and have it delivered with a cake or stuffed toy. Having been in the business for a few years, they'll even suggest bouquets based on occasion, which comes in handy in the event you've forgotten about Valentines Day, a birthday or anniversary and need to apologise.
Comments