Millet Cookies From Orgtree Have Our Heart And Health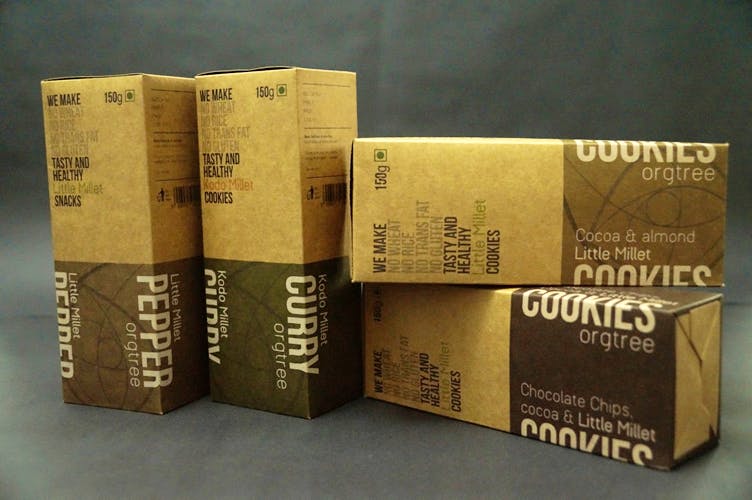 Shortcut
Ditch those nutrition-poor, refined flour biscuits and instead have a go at Orgtree's just-launched millet cookies.
Bye Bye Maida
If you've been stressing out about refined wheat flour in your chai-dunking bikkies, but can't do without one, then Orgtree's millet cookies might just be what you're looking for. The gluten-free biscuits are made with organic kodo or little millet and come in four flavours. There's almond and cocoa little millet cookies, chocolate chips and cocoa little millet cookies, pepper little millet cookies, and curry kodo millet cookies. The makers assure us that their cookies are "made with locally sourced millets and love." Orgtree sources its millets from Thenkahalli, a village in Karnataka's Mandya district and also from Tamil Nadu. Their website informs us that 188 families live here and that the millets are grown "without fertilisers and substitutions". We loved the brown paper boxes the cookies come in.
Locavore Delights
When we got our three packets, we decided the occasion called for a high tea of sorts. Friends arrived, and steaming cups of ginger and cardamom tea were brewed. We cracked open the biscuit packets and began tasting. The chocolate chips and cocoa were hands down the favourite – they disappeared within minutes, even causing a few squabbles. Then came the pepper cookies and the curry ones. Here the chai party was divided – some preferred the pepper, others the curry. It takes a while getting used to the millet flour taste, but once you do, it's quite unusual and palatable. What we loved was that the cookies are not coarse. Instead their texture is smooth and almost buttery – they use hydrogenated fat. Orgtree says that they use only natural raw ingredients while making their cookies.
Are we getting more cookies in the future? We think yes, especially since after everyone left, we were left with only a couple of cookies. We do see why the health and environment conscious people would add these cookies to their shopping lists. But possibly, even the others will.
Price: INR 240 for a pack of four (150 grams each)
Follow them on Facebook here.
Check out their website here to shop online.
Comments (0)