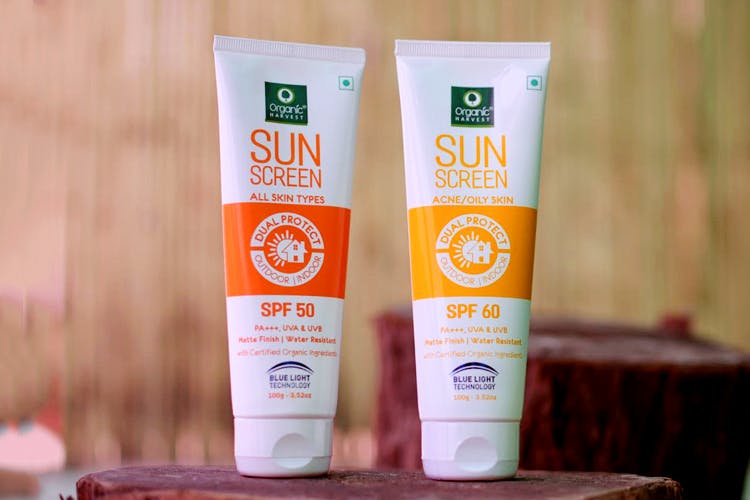 Say Goodbye To Summer Skincare Woes With This New-Age Sunscreen!
The temperature might be slowly rising, but that doesn't mean that our concern for our summer skin should also be high. While your average sunscreen would mostly prevent only external harmful radiations from the sun, it does nothing against the effect of blue light from your devices that you're glued to throughout the day. Organic Harvest's new sunscreen made of certified organic ingredients caught our attention! It has blue light technology which not only protects the skin from harmful rays of the sun, but also from rays being emitted from electronic devices. Keep reading to know what we are talking about!
#InOutOrganicShield
Did you know that nowadays it's not just the heat that causes issues like excessive oil, acne, wide spreading pigmentation, etc., but also the excessive use of our gadgets and screens? Thanks to the blue light emitting from our beloved screens, our skin issues become worse and we don't even know it. Organic Harvest's new range of sunscreen has been created with a Blue Light technology to tackle this problem and in turn, to give us an #InOutOrganicShield. Plus, this one's a natural sun-protection cream which is not only non-chemical and lightweight but also protects and hydrates the skin at the same time.
Perfect Match For Your Skin
Whether you suffer from oily skin or acne, Organic Harvest's range of sunscreen will protect it from various issues such as pigmentation, aging, and tanning. For those suffering from oily skin, opt for SPF 30 or 60 because these contain Glycine Soja (Soybean) Oil, Organic Glycerin and Kaolin clay which suck out the impurities and smoothen out your skin. If you've got normal skin then SPF 30, 50 or 60 will work just fine for you.
So, We Are Saying...
Get summer ready and add this to your list of essentials. Whether you're sitting at home or planning to step out, beat the heat with Organic Harvest's new range of sunscreens!
Comments