The information in this post might be outdated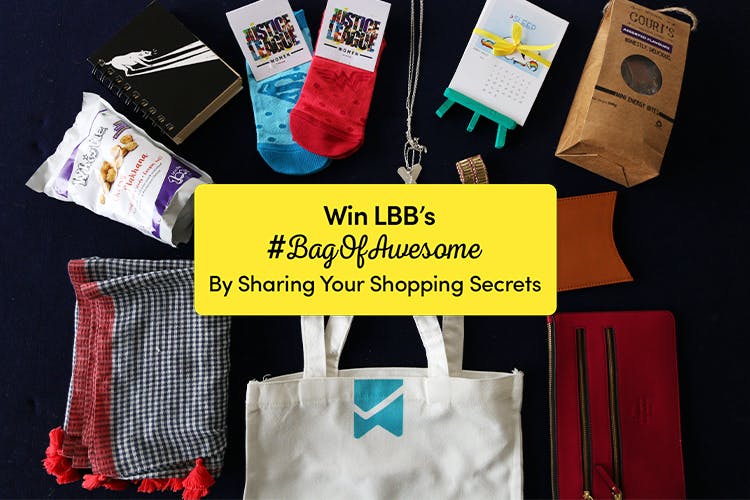 #LBBContest: Tell Us Your Shopping Haunts And Win An LBB Hamper
Yup, You Can Post Your Recos on LBB
Incase you missed our update, we've launched a brand new feature on our app that lets you post places, services and events that you think are AMAZING on LBB. Missed the memo? Watch this:
What Do I Need To Do, Again?
Step 1: Think of a great place to shop- it could be a store, a hidden bargain haunt, an online store, or a home-based boutique that is superfantasticallyawesome. They could sell clothes, jewellery, phone cases, apparel, cushions, vintage sunglasses, a pair of jeans, stationery, wall –art, home-décor and more.
Step 2: Post about this(/these) place(s) through our App.
Step 3: Make sure you add pictures, and fill out all the information
Step 4: Wait for us to get in touch with you if you win!
The Prize Better Be Awesome
And it is!
This hamper will include healthy bars from Gouri's Goodies, diaries from Lovestruckcow, Justice League socks from Balenzia, a unicorn monthly planner, pocket planner, wire winder, bookmark and badge from Funkchunk, earrings from Nimai, a travel bag from Chiaroscuro, stoles and recycled notebooks from Indigene Craft, Sunshine and Cheesy makhanas from Whistle, and a passport sleeve from The Black Box Co.
There's 20 Bags of Awesome to be won! And we bet this hamper beats the one on a popular chat show.
#LBBTip
The more unique your post, the better the chances of you winning! So open up those Little Black Books and share hidden gems for shopping (in your city, in another city, or even your online shopping favourites!)