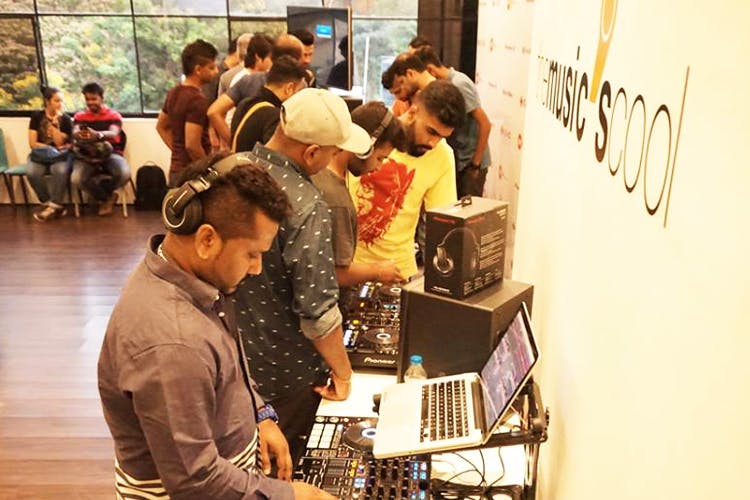 Kickstart Your Electronic Music Career At The Music'scool
Ten-Second Takeaway
Want to master the art of making or producing electronic music? The Music'scool is your go-to console.
The Calling
You've been a fan for a long, long time, and now you'd like to take the plunge and be a musician yourself. Right? That's where The Music'scool, started just last year, comes in. With five comprehensive courses in DJing, VJing, RJing, Music Production and Sound Engineering, you'll be guided all through your journey to the big stage.
Right from the get go, you're given access to the latest music technology. We're talking Pioneer DJ, Native Instruments, Beyerdynamic and JBL Pro – the industry standards anywhere you go. With four different workspaces, and the premises being open to students 24 hours a day, you can practice to your heart's content. Once you've completed your course, there's several opportunities you can capitalise on. The school's tied up with over 70 venues, and those venues require talent. Enter, you.
In Good Hands
Spearheaded by industry veterans DJ Clement, DJ Ganesh and Sean D'souza, The Music'scool boasts some of the best teaching staff around. With a combined experience of 50 years, you can rest assured that you're getting exactly what you asked for. If you're into electronic music, you're in the right place.
The courses, more like a mentorship than a spoonfed curriculum, offers a different sort of education. How do we know this? Well, the proof is in the careers of the founders. Former DMC Champion, Sunburn staple and one of the most sought after DJs in the country, Clement D'Souza knows a thing or two about coming up in the game. Self-taught and having landed on the music scene before DJing was considered a valid career, the trio, plus a crew of seasoned artists, now extend their expertise to younger generations through the school.
#LBBTip
They've got workshops on the regular. Sign up now!
Comments