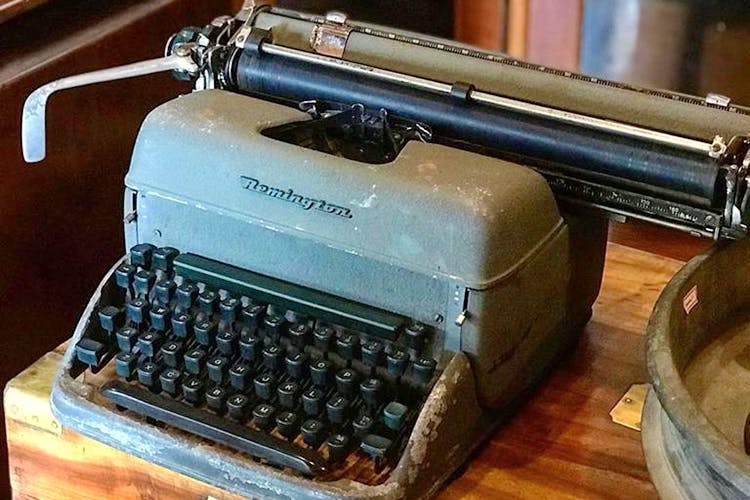 Remington Typewriter To Carved Cash Boxes: This Vintage And Curio Shop Is Fabulous
Shortcut
For all things antique and vintage, head to The Vintage Lifestyle Shop in Ragi To Raga on Kanakapura Main Road to pick up cool souvenirs like pocket watches and vinyl records, restored furniture, and home decor units.

What Makes It Awesome
It's a treasure trove of vintage knick-knacks of all kinds, collectables, curios, antique and restored furniture and home decor options. Although a bit far from the city, the store's collection will make you want to make the trek. Because you don't know what you are in store for unless you browse through the shelves and racks all lined with pocket watches, compasses, telescopes, watches, knives (there's quite a collection), brassware (like a filter coffee maker), and odd curios like decorative pieces made from animal bones, souvenir spoons, and smoking pipes. It's like Dumbledore's office at Hogwarts -- cool, quirky and filled with useful stuff!
Remington typewriters, vinyl records of Rafi and Mukesh, gramophones, and a really cool collection of vintage postcards should catch your fancy when you check out the store. Mind you, its quite a collection and if you are a vintage hunter, photographer, or just looking for pieces to give a rustic look to your place, you will find yourself spending quite a lot of time. A lot of the furniture are chairs, cabinets, storage boxes, and jewellery boxes. These are made from rosewood, teak, and similar wood.

What Could Be Better
Some of their stock are replicas as well, so be sure to ask for which are authentic pieces.

Pro-Tip
They also specialise in restoring antique and old furniture as well as take custom orders.

More Information
The Vintage Lifestyle Shop
Comments