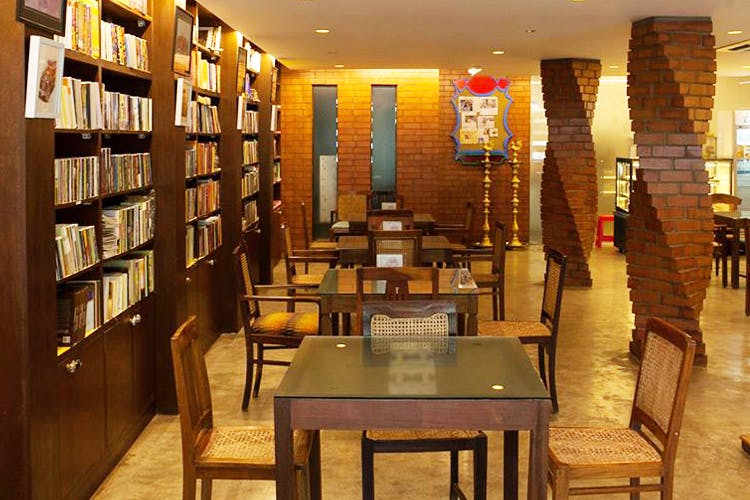 Skip The Mall: Six Things To Do Around Forum Mall In Koramangala
Oh yes, we know Forum Mall is probably a favourite among Koramangala folks, being the only full-fledged mall in the bustling hood. But what do you do when you've spent quite a few weekends there and familiarised yourself with almost every store (to that point when the staff know just what you're looking for…or not). Despair not! Around the mall are a few spots you can check out, all within walking distance! From a live escape room and a cultural space to a street full of shopping options, there's something for everyone in our handy list of things to do near Forum Mall in Koramangala.
Test Your Wits
Bored of the same old activities? Look no further than Riddle Room (a live escape room) if you want a dose of fun and thrill while putting your grey matter to the test. Pick from the two storylines on offer, don your thinking caps and get going, all so you can complete the mission and make it out in 60 minutes!
Music On The Cards
Take a short walk from the buzz of the mall and head to Indigo XP. Apart from live performances to jazz up your weekend, they also have like binge-watch sessions for popular TV shows, every now and then. But, that's not all. Whether you choose to give free rein to the singer in you at their karaoke nights (on Wednesdays) or sit back and enjoy gigs by city-based bands (on Thursdays), even weekdays can be quite entertaining here.
Board Games Galore
Why not skip the same routine and have an evening of good old board games? And, what better place for it than at Dice n Dine, where you get to choose from their collection of over 400 games! Stocking everything from classics like Scrabble and Pictionary to European games like The Settlers of Catan, Puerto Rico and Ticket to Ride, they even let you buy some of them.
Shop Till You Drop
Don't let the mall's high end brands and their prices stop you from going on that shopping spree you so enjoy. In fact, we suggest you make a day of it and check out the numerous options you have around the mall. Right from Rajeha Arcade with its affordable ethnic wear to Spice Girls (near Jyoti Nivas College) for trendy shoes, and the popular Tibet Mall where you can score make up, lingerie and apparel, there are enough options to spoil you for choice. Without burning that hole in your pocket, too! Read more about the stores near JNC here.
Culture Vultures Ahoy!
While your favourite mall in Koramangala probably has everything from apparel, jewellery and footwear to food and games under one roof, where do you turn to when you want something different? Not too far, actually. Because, barely a kilometre away is the regional bookstore and cultural space, Atta Galatta. Bringing together over 10,000 books (in Kannada, Tamil, Telugu, Malayalam, Hindi, Bengali and English), cultural events (think poetry and book readings, storytelling sessions, and plays), coffee and even snacks, this is where you can get your fix of art and culture. Along with a great ambience that just makes you want to sit down and lose yourself in a book! Read more about it here.
Strike Some Pins Down
Blue Moustache has a bowling alley and a mini games arena. It's a good spot to hang out with the squad especially on weeknights when the crowd is minimal. The four bowling alleys are for you and your friends to play on and you can make a challenge out of it and see who's the best bowler in your team.
Comments