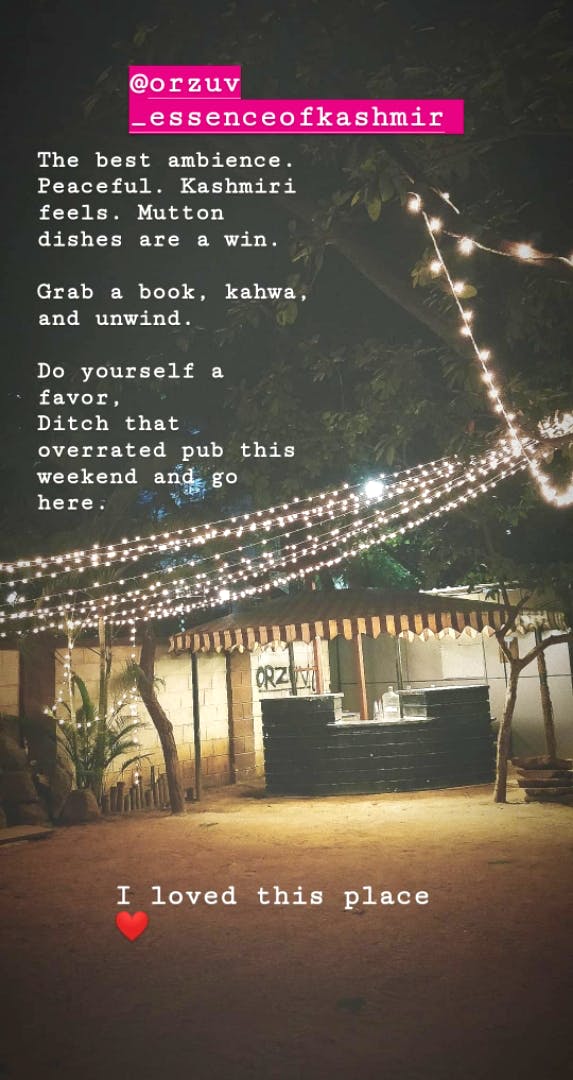 This Kashmiri paradise will take you straight into heaven! Say Hi to peace.
What Makes It Awesome
Beautiful Beautiful Beautiful!❤️ Oh! The Kashmiri ambience. And the heart warming hospitality. The mutton dishes are a win! This place is situated amidst the greenery in Whitefield which instantly transports you to Kashmir. I have never felt so much at peace dining anywhere else in Bangalore the way I did here. I went on a Friday evening and it was quite empty which increased my peace quotient. Ordered : Food: 'Waaza Kokur' - Excellent 'Mutton Rogan Josh' - Wow! Rice - Lovely! Drinks: The extravangant Kahwa - Epic! Sulaimani Chai: Go for this only if you've the taste buds to crack it! It's a little too strong. Nun Chai: This is made with salt, baking soda and milk and it's a completely different tea experience. I'd recommend you to try it just for the experience. Go here for a date, solo or with friends. There's something for everyone. From books, to hookah and of course the peace. They've a dog too (Hi! Dog lovers!) You'll find me here again soon, so hey! see ya around😍
What Could Be Better
The music should be more focused on kashmiri tracks to give it that extra appeal.
Best To Go With
Bae, Family, Big Group, Kids
More Information
Orzuv - Essence of Kashmir
Comments