The information in this post might be outdated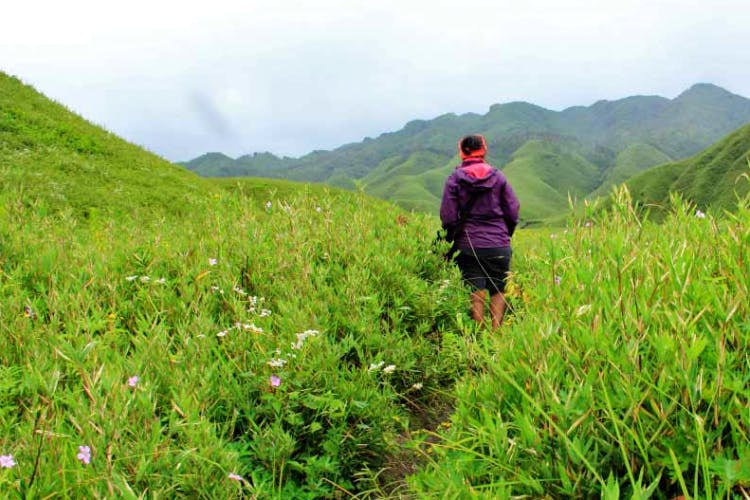 Walk On Flower Carpets And Sneak Under Waterfalls On This Trek Through The Dzukou Valley
What Is It?
Some like summer, and others like winter, but the real magic happens in the monsoon! Especially if you meander through the most gorgeous meadows in the Dzukou Valley in Nagaland. Making that dream come true, Kipepeo (a travel community that does trips and experiences to explore the North East) has organised a trek that you can't miss. A lesser known pocket of the montains there, the Dzukou Valley is heaven for trekkers. Not too high, at 2438 metres above sea level, gentle rolling hills will keep your heart beat up, though the views will take them even higher! With panoramic views of the entire valley, you'll want to take photos, but first, soak in the beauty with your eyes. Sounds dramatic, but trust us, we've been here, and it's beeee-yoooo-tee-ful!
Who Is It For?
Since this is an easy trek, with slight inclines, you don't need to be a seasoned trekker. However, if does help if you're active. Other than that, this one is for anyone who wants to explore the mystical Nagaland, see the lush valleys, watch raindrops over the colourful blankets of flowers. Ah, just perfect! So, yes, it is for you!
Why Should I Go For It?
Nothing like a trek through the wilderness with flowers, raindrops, waterfalls and mountains to make up a perfect setting. And that is exactly what this trek will show you. Just behind the Japfu Peak, which is Nagaland's second highest mountain, meandering through the valley will give you some of the finest views. Naturally, you can't take a bad photo here so go wild on Instagram. But please, only once you return! The price (INR 26,000) includes accommodation on a twin sharing basis at all of the stops (including Kohima, and the valley of Dzukou itself), transfers from airport to base camp, all meals as well as those elusive permits to visit Nagaland. When: August 13 to August 18, 2018 Where: Dzukou Valley, Nagaland Price: INR 26,000 Book your spot on this trek here.