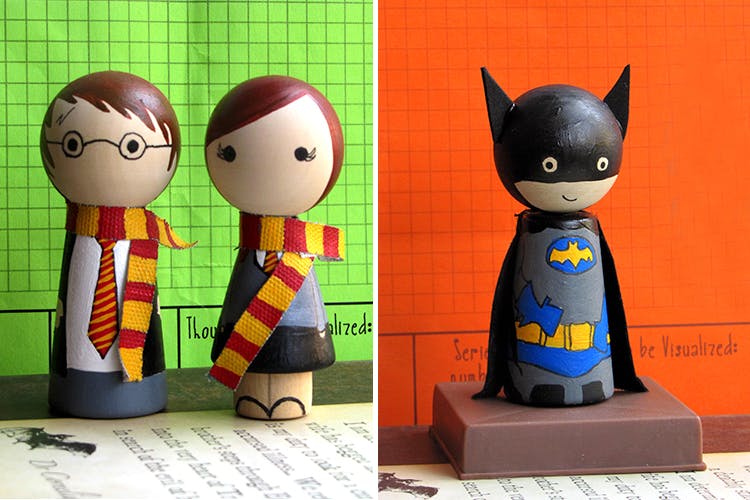 Harry, Hermione And Captain America: This Online Gift Store's Wooden Dolls Are Adorable
Shortcut
Greeks and Gifts is your new go-to online gift shop with its cutesy range of wooden dolls of fun characters — from superheroes to Disney Princesses.
All Dolled Up
Give up the flower vase and scented candle drill and gift your friends a quirky little wooden doll instead. Greeks and Gifts in an online gift store that makes these precious little wooden dolls. Each one of these little babies is hand-painted with acrylic paints, cute as a button and they come in a bunch of characters. We spotted pop culture favourites like Harry and Hermione complete with their wands and Gryffindor scarves and our favourite pirate of the Carribean, Captain Jack Sparrow with his signature dreadlocks and his trusty sword.
They have an entire series dedicated to superheroes that includes Captain America, Wonder Woman and Gotham's Caped Crusader, Batman. We also saw our favourite Disney characters like Snow White and Rapunzel in wooden doll form and it melted our cold cold hearts. And if you thought they couldn't get any cuter, you are wrong. They have a mini range of these dolls that you can use as phone charms and necklace pendants, proving that there is no such thing as being too cute. These wooden dolls are priced from INR 200 to INR 950.
Gifts Galore
Greeks and Gifts also sells flirty scarves in fun colours and prints, fridge magnets and coasters with illustrations on comic bits on them and other knick knacks, with their prices starting at INR 100, which make for cute and affordable gifting options. Check them out and get in touch with them on their website here or call them on 9945004665. They also have some of their stuff listed on Amazon, and are working on opening more e-commerce channels and networks in future.
Comments