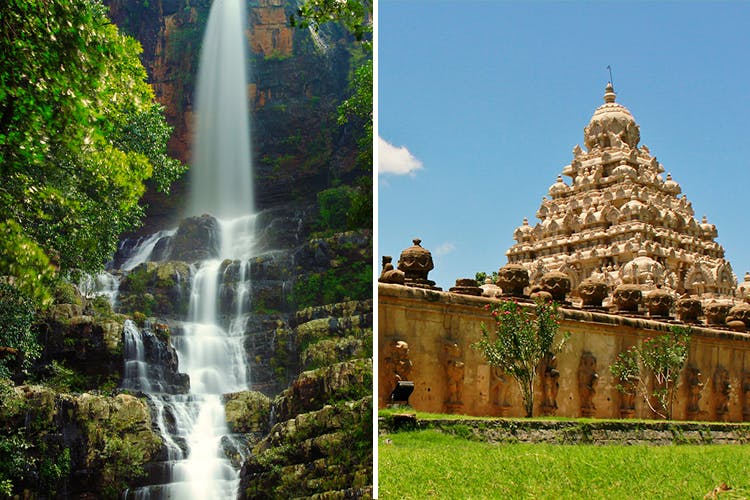 Make A Quick Escape To These 5 Places Under 5 Hours from Chennai
Got a long weekend coming up and want to get out of Chennai for a bit? Have a look at these 5 places that you can visit which are less than a 5 hour drive from the city to explore stunning forts, majestic temples, scenic waterfalls and trekking sites too!
Vellore
Rich in history, this city is known for the Vellore Fort, the Vainu Bappu Observatory, the archeological museum and the Jalakandeswarar Temple amongst other popular sights.
Passed through dynasties of the Vijayanagara Empire, the Vellore Fort has stood tall with its ramparts and moats since the 16th century. Home to a church, temple and mosque, it is rumoured that the last king of Sri Lanka was held prisoner during the British rule. The Jalakandeswarar Temple is known for its Dravidian architecture and its seven-tiered gopuram. Don't forget to visit the observatory and the largest telescope in Asia that is said to be 700 metres above sea level! Science & culture buffs, this one's for you.
Driving time from Chennai: 3 hours
Pulicat
An old town less than a couple of hours drive from Chennai, Pulicat is well-known for its lake, bird sanctuary and the Dutch cemetery. You can see thousands of migratory birds at the bird sanctuary including flamingos, ducks, herons and storks! The other attraction in Pulicat is the Dutch cemetery. Discovered in 2007, archeologists claim that it was used before the year 1656 and there is a belief that a Dutch businessman imprisoned by the Portuguese here was actually responsible for starting the Dutch East India Company.
Make sure to visit this site to see the old tombstones at this cemetery as well as the ruins of Dutch fort and church!
Driving time from Chennai: Less than 2 hours
Talakona
Enjoy waterfalls and some good old trekking? Talakona is the place to visit for you! At a height of 270 feet in the Sri Venkateswara National Park, the waterfalls are situated amidst a dense forest and falls into a deep valley. The other two attractions are the canopy walk which is 240m in length and 40 feet in height and the many trekking routes available to trekking enthusiasts. Due to the rich flora and fauna, Talakona has been deemed a biosphere reserve since 1990.
If you are one for cultural sites, do visit the Lord Siddheswara Swamy temple en route to the waterfalls!
Driving time from Chennai: 5 hours
Kanchipuram
Known as the "Land of Thousand Temples", Kanchipuram is well-known for its exquisite silk weaving industry, its many buildings that stand for its varied architectural styles, for being a mythical city and as the name suggests, its many temples. While most people associate Kanchipuram for its rich heritage,  you could visit the temples or take a tour to a silk-weaving unit to see how weavers are different in Kanchi or to an organic farm to learn about their paddy cultivation.
As the temples were built during when Kanchipuram was being ruled by two different dynasties, there is a blend in architectural styles and this can be seen in some of the older temples in the city. Two temples which are a must visit are the Kamakshi Amman Temple and the Varadharaja Perumal temple.
Also, fun fact, Kanchi is believed to be a Southern kingdom which took part in the Kurukshetra War in the epic Mahabharata!
 Driving time from Chennai: 2 hours
Nagalapuram
Trekkers, this place is for you! Nagalapuram, a small village in Andhra Pradesh, is one of the top trekking destinations around Chennai and is a major attraction for adventure buffs. The trek is a thrilling experience and is complete with a number of challenges with dense forests, slopes and tricky paths. Be on the lookout for an occasional peek at a waterfalls or pools of water which this place is popular for. It's best to go with a group of friends. And we do advise that you get here early morning and be done with the trek before it gets dark as it can get quite crowded later on in the day.
Driving time from Chennai: Less than 3 hours
Comments