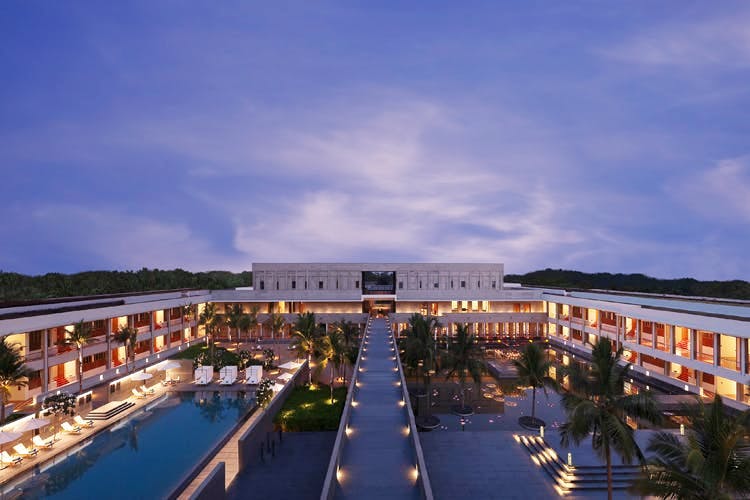 Attention Team Bride: Check Out These Quick Getaways For That Perfect Bachelorette
With a long and exciting wedding season just around the corner, you might be wondering what you can do to show your BBF a great time before she gets hitched. Fret not. Although Chennai's humid weather might be playing spoilsport to your party plans, here are some quick getaway destinations from Chennai where you and your girl gang can head out for a great bachelorette weekend!
Coonoor
Nestled in the Nilgiris, this may just be the perfect spot to relive all the amazing moments you've shared with the bride-to-be. With some lovely bed and breakfasts like Acres Wild to stay in you can plan some super fun activities like cheese and wine tastings and cheese making workshops. Book a big table at the cosy and classy Culinarium for an evening soiree. Maybe even try to get customised macarons for the bridal party, and do dig in into their lamb goulash while you're there! Take this trip to refresh yourself in that crisp mountain air before things start getting a bit crazy with the wedding prep back home.
Pondicherry
An easy peasy three-hour drive away from Chennai you can hit L'e Space, L'Aqua and Asian House for some great cocktails. We'd recommend celebrating with some mojitos here and digging into some quick bites. During the day, explore the French quarter by foot or head further down to Serenity beach to catch a glorious sunrise or two before the big day. And, did we mention how insanely Instagram-worthy pretty much everything in this little former French town is?
Mahabalipuram
Not a fan of long journeys? This short drive out of the city will get you and your girl gang some much-needed sun, sea, sand and seafood! If you wanna really luxe it up, book a room at the Intercontinental or the Radisson Blu, and they're around to pitch in to make the bachelorette a special one! Spend two days chilling by the beach, diving in the pool, sampling some great seafood and generally just having a gala time with the gang. If you're bored of staying indoors, take the guided tours around the 6th-7th-century monuments and temples that dot this little town.
Kovalam
Is the bride-to-be an adventure junkie? Sitting indoors all day not really her thing? Get her to this beachside hamlet for a weekend of surfing lessons before she hops on to the biggest adventure of her life. Stay at the local Surf Turf and wake up to the sounds of waves crashing a stone's throw away. With little else to do beside surf and chill, you're bound to hit the perfect balance between adventure and relaxation. The best part? This is a super-short one hour drive from Chennai!
Bangalore
The city of pubs lures many into spending a wild weekend celebrating the single life well-lived! Plan a super fun pub hop — a little bridal challenge to complete in each one, to unlock the next destination to hop to! Pick ones like Skyye Lounge and High Ultra Lounge for a party with a rooftop panorama. In the mood for microbreweries? Hit up Toit or Arbor Brewing Company for some brews and yum European food. Can't think of a better place than good ol' Bangalore to drink, dance and make merry in the run up to the wedding day. Don't forget to cure your hangover with some bacon and toast or some buttery crisp Mysore Masala Dosa before you head back.
Yercaud
Head to this little hill station in the Shevaroys for a quiet but naughty weekend. You can pick from the many thickly-wooded coffee plantations that also double up as bed and breakfast places. Glenrock Estates and The Last Shola Cottages are two of our favourites for some peace and quiet. For more options, click here. Look out into the valley with Salem lights twinkling far away under a starlit sky. During the day, take a hike through the coffee plantations, pick a nice picnic spot inside and sit and share some great memories with your lovely girls. Huddle around a bonfire at night to share good wishes and giggles to bid your bride-to-be a happy together forever!
Read this to discover some offbeat things to do there.
Yelagiri
Located only a few kilometres from Vellore, Yelagiri offers great views, pleasant weather and some great adventurous activities for your squad to enjoy. You can camp at various spots including Yelagiri National Park. There are a number of lakes with boating and kayaking options as well. If you're serious about riding, this place also makes for a great biking destination. As for the accomodation, go fancy with Hotel Landmark and Sterling Resorts or cozy up in Yelagiri Hill Cottage for a more private getaway.
Horsley Hills
If you're seeking to get your fill of adventure during this bachelorette, Horsley Hills could cut the perfect deal for you. Just four hours away, this place has beautiful mountains around the hilltop where you can have a cute picnic, relax, or walk around, soaking in the beauty. You can also choose to stay at some quaint hilltop resorts in the night or camp out on one of the flat rocks to stargaze or catch the sunrise the next morning. There is also a park close by where you can try Burma Bridge, ATV rides, and short zip lining among other things. Perfect weekend with your squad, don't you think?
Tranquebar
If the bride to be is big on culture, this place offers the perfect balance of that and some offbeat fun! Chill at Gate House In Tranquebar, a beautiful and luxurious Tamil bungalow that will give you some serious vacay goals! All meals are served at the Bungalow By The Beach which is another Neemrana Heritage Property that's a five-minute walk away. Have a nice party inside the hotel during the night or day and go out exploring when you can. You can find an early 14th century Pandya temple and a 17th-century Danish fort nearby and there's, of course, a beach to let out your water baby.
Mysore
Not too far from Chennai, Mysore's pleasant weather and scenic composition could help you make some beautiful memories with your girl gang. Lakes, hiking spots, palaces, shopping places and delicious food, this place has it all. Check into the Heritage Hotel Royal Orchid Metropole for a royalty-infused stay before you give away your princess or party it up at other homestays.
Think we missed something? Let us know in the comments below.
Comments