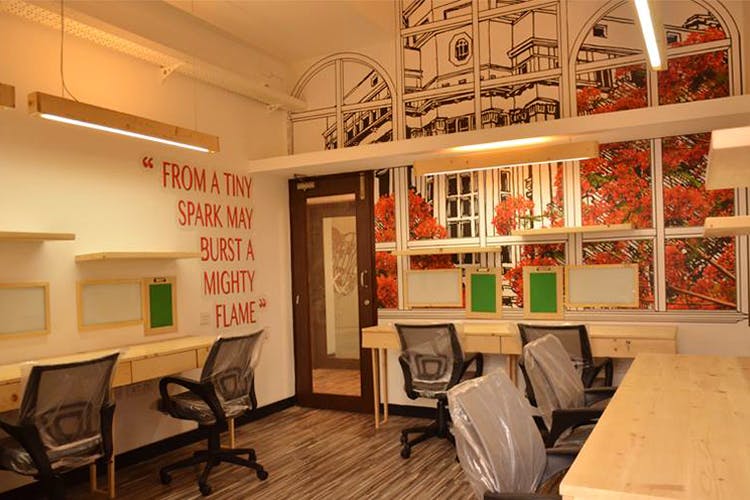 These Pinterest-Worthy Work Spaces Will Make You Never Want To Leave The Office
Writers, artists, architects, designers, start-up entrepreneurs and all you creative freelancers, we have got an interesting line up of work spaces for you! Yes, Chennai has plenty of artsy spaces and we couldn't resist showing you some of these really pretty, Pinterest-style ones. Perfect to meet deadlines, co-work, meet like minded peeps and stir up conversations with your peers! Have a look.
The Grid
This workspace in Central Avenue is oh-so dreamy. Not just a coworking space, but The Grid is also a musicians adda. The place has many soulful gigs week after week and brings together many budding artists. Freelancers and others looking for a spacious and quiet place to bring out your creative best, this graffiti building offers colorful terraces, brick-walled rooms, and libraries, setting an apt environment to work at.
Backyard
Backyard is quite the office away from the office to sit down and get to work. This small workspace is not just pretty but has also got loads of inspiration on its walls. Filled with art, photographs, and quotes, Backyard even offers food in the form of spiced buns, chicken and gobi dishes too. Don't forget to sip on some free coffee too!
Here you could also pay for the number of hours you lounge around starting at INR 100 per hour. They also host open mics, workshops, standup comedy sessions, and other events.
Workafella/ Workenstein
The Workafella group has spaces in multiple places around Chennai and is for anyone who likes classic interiors. Dominated by yellow and black colour schemes, Workafella is sophisticated and provides a dynamic workspace. Workenstein in Perugundi is very much like quaint cafes, only this one comes with wooden desks alongside large windows. The spaces are well equipped with all amenities and come with food courts, private work areas, and meeting rooms. Workafella/Workenstein and even Workenstein Plus in Shollingnalur is an apt place for someone looking for a more corporate environment. Also, no worries about pulling off all-nighters, the place is open 24/7!
Two Trees
Two Trees provides a modern and colourful space, where you could easily disconnect from the hustle and bustle of the city. The place has very earthy interiors and a yellow-brown colour scheme which we liked. Tucked away in a quiet part of Teynampet, this workspace lets you host clients and break a deal or two at their work stations. Best part? They're open 24/7 too! What's even better? Our favourite cafe, The Summerhouse Eatery is right down below! You'll never want to leave now, eh?
WSquare
WSquare is India's first coworking space exclusively for Women. The cute little women-only space in Adyar, offers space for white board discussions, work strategies, meetings and most things you're looking for, under one roof. Highly recommended for working mothers, we also hear, the place has a yoga and fitness centre!
With a white, purple & pink theme, they have both private and group work spaces for women. With cute lounges and desks to work and brainstorm at, WSquare is a simple yet vibrant place for all you ladies. During your time here, you get unlimited access to conference rooms and other concierge services.
Cowrks
Located in one of the busiest business centres, CoWrks provides a 5 star working environment for startups. What we loved about this space is their private studios. They are spacious and surrounded by glass! They also have some stylish conference rooms and an add-in event space. Their membership offers will also let you stick around 24/7 if needed.
The walls in the common areas are painted with murals, cute motivational posters can be found across the office and they're getting a foosball table soon too. We liked the way they have made use of common areas to foster interaction between office users. Some walkways even have cut outs and cubby holes in the form of diners and telephone booths where you can catch up over coffee or take a private call.
Comments