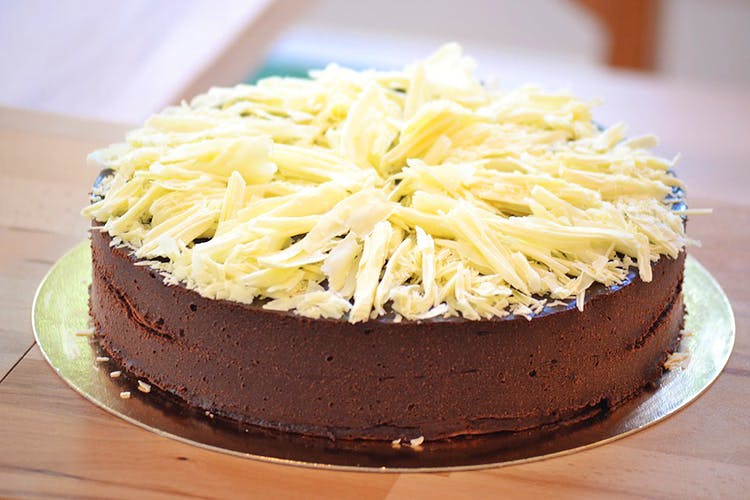 These Online Cake Delivery Services Will Satisfy Your Sweet Tooth Even At Midnight
Be it a wedding cake or a last minute birthday emergency, here are some online cake stores that deliver (eggless cakes too) even at midnight!
Happie Returns
From birthday cakes to theme cakes and even wedding cakes, Happie Returns has tons of variety for any occasion! Their specialty is the Snow White Cake (vanilla cake with fluffy, snowy icing topped with cherries) and the Exquisite Choco Mousse, made with different layers of mousse-like chocolate, vanilla and a chocolate base topped with chocolate cream among others. They also have cheesecakes and all your cakes can be ready within the same day (or even by midnight!). For cheesecakes and chocolate icing cakes, orders must be placed a day in advance and five days in advance for wedding cakes and theme cakes. For midnight delivery, orders must be placed by 11 am on the same day. They adopt a flat rate of shipping which is calculated on the basis of your pin code.
Price: INR 700 onwards
Ferns n Petals
Although Ferns n Petals is actually an online florist, they also have cakes and do late night deliveries too. They not only have yummy cakes, but also oh-so pretty ones like the Rose Cake (a beautiful variation of their classic Chocolate Fondant Cake finished with pretty roses on the top), and Kit-Kat cake (a visual treat of chocolate cake surrounded by Kit-Kat bars, wrapped with a ribbon and topped with Gems). They can do customisable options like photo cakes where you can upload the picture you want on the cake. Most of their cakes are usually delivered the next day and delivery is free. They do not have midnight deliveries; their last delivery slot is at 10 pm.
Price: INR 600 onwards
Flower Aura
Flower Aura keeps it simple with classic cake options. They have Chocolate Truffle Cake, Butterscotch Cake, Glazing Chocolate Beauty, Vanilla Blueberry Cake etc. Their specialties are the two-tier Chocolate Cake (three kilos of irresistibly tempting chocolate cake made with rich chocolate cream. Serves 14-16 people), Fresh Fruit Cake (nutritious cake laden with fresh seasonal fruits) and the Sinful Chocolate Truffle (no explanation needed). Get your cake on the same day you order and even at midnight. Orders must be placed before 5 pm for same-day delivery and by 4 pm for midnight delivery.
Price: INR 649 onwards

Dona Cakes World
This Chennai-based online cake store has a wide variety of cakes that are freshly baked right here in namma Chennai. They have a Kit-Kat cake with a Black Forest base which tastes as good as it looks! They also have Barbie cakes, Fresh Cream cakes, Fruity ones and also two-three Tier cakes. Their Barbie cakes are perfect for kids' birthday parties and come in many flavours, colours, looks and sizes. They also have cheesecakes in Bluberry, Strawberry, Lemon and Mango flavours. All cakes except the Barbie cakes are customisable to your desirable shape (round, square, heart) and you can also opt for an eggless option for an extra charge of just INR 50 per kg. For midnight and same-day delivery, you can call them to confirm before you order.
Price: INR 450 onwards
Winni
Another online cake store that has delicious cakes and even gives you the option to make your favourite cake an eggless one. They have Nougat Cake made of sugar or honey, and seasonal nuts. This cake is a blend of nougat and whipped cream. Then there is the Romantic Pink Blush Strawberry Cake, a strawberry rose cake with rich strawberry cream and crushed strawberries in, yet again, strawberry buttercream icing, Rocky Road Cake, a chocolate cake overloaded with chocolates, jelly, and nuts and Funky Chocolate Gems Cake, rich chocolate cake topped with gems among others. Midnight and same-day delivery options are also available for an additional charge based on your pin code.
Price: INR 599 onwards
Ordermycake.in
This online store gives you an option of choosing yummy cakes from standard bakeries around you based on your city and locality, like French Loaf and other renowned bakeries. They have all cakes that the listed bakeries bake on a daily basis along with customisation like photo cakes where you can upload the picture that you want on your cake. Their delivery options are based on fixed timings and orders are to be placed 24 hours in advance. Most of their deliveries happen the next day and the last delivery slot is at 10 pm.
Price: INR 650 onwards
Comments