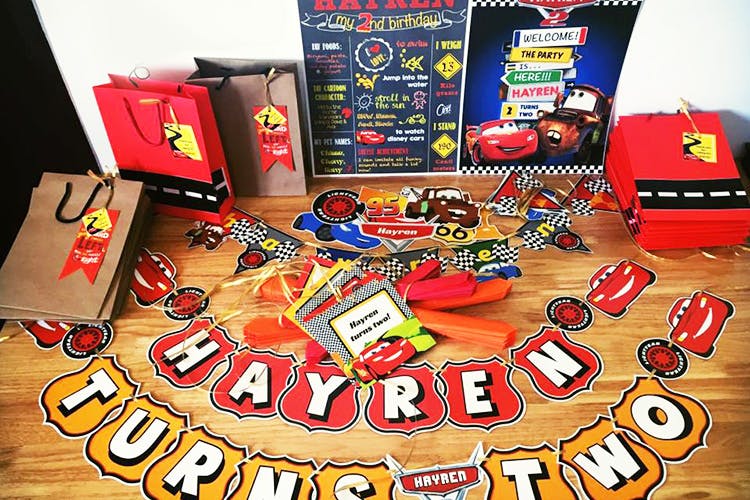 Shiny Disco Balls Or A DIY Selfie Booth, Hit Up The Best Party Supply Stores In Chennai For All Your Props
Whether you're planning a party for your kids or yourself, one of the most important things is to make sure the decorations are on point. In the middle of all the planning, food and invitations, you might forget certain things. So why not leave the decorations to the professionals while you handle the rest? Get the best only from the best party supply stores in Chennai.
Twinkles, The Party Shop
This is one of the most popular places in the city to get all the perfect things for your party. Twinkles even does personalised party decorations, to give each party the perfect touch. If you know exactly what you're looking for and you let them know, their team will execute it just the way you want it. Balloons, streamers, banners, party hats, paper flowers, cups, plates and table cover sets! That's not all. They even have the perfect gifts for parties and a variety of wrapping paper to use. They can even do a lego-themed decor!
Happily Papered
Another service that does all the work for you and only requires you to place your order so that they can send you all the pieces. They've got party themes and lots of personalised options as well. They promise to send you all the party supplies well packed and with coordinated colours, the theme you asked for, names on the banners, streamers and gift tags and so much more! They have cupcake toppers, drink flags, personalised tags, crowns and hats, and even themed stickers! All of their products are handmade and made out of paper.
Party Dabba
What makes Party Dabba quite amazing is that they have set themes that you can buy and use to decorate your party. The theme comes with streamers, cake toppers, gift tags, balloons, photo booth props, confetti and so much more! All you have to do is find the theme that suits you best and you get everything that goes along with it in one package. And if you're wondering what 'party kits' they've got in their store, you're going to love this – Hollywood themes, Butterfly themes, Underwater themes and even Superhero themes, to name a few.
Party Shop
No matter the kind of party – birthday party, bachelorette party or a themed party – the Party Shop has elements that can be used by everyone. They have themed sets that include table covers, plates, glasses, cutlery and other table toppers that can be used to serve food or as decorations. They also have a variety of hanging lampshades that come in white or multiple colours, and are the perfect addition to any party. And if you have a photo booth set up, they've also got props like giant sunglasses, feathery boas and fancy masks to add to the photograph.
Balloons Unlimited
Imagine a store with all different kinds of balloons and just balloons! Balloons Unlimited store in Taramani and Anna Nagar is there to brighten up your party with all different kinds of balloons possible. Be it pretty pastel balloons sticking up on the ceiling, balloons with fun quotes or helium balloons for themed games. You just have to let them know about your theme and they will handle the decor accordingly. They even have singing balloons to match the theme. How cool is that?
Missed out on something? Let us know in the comments section below.
Comments