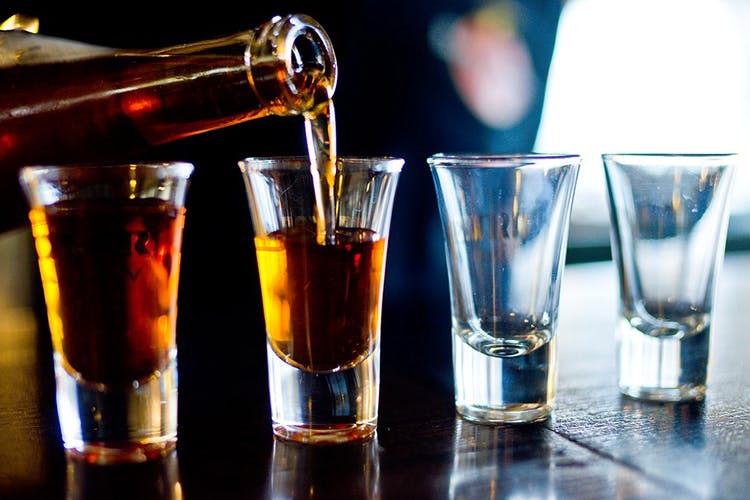 Buy One, Get Two & Unlimited Drinks Galore: This English Pub In T-Nagar Is Boss
Shortcut
Don't miss out on the long happy hours and unlimited booze at English pub — Bike & Barrel — in T-Nagar.
What Makes It Awesome
Bike and Barrel is one of the older pubs in Chennai and unlike most others, it's a true pub and not a pub that becomes a club when the sun sets. So dancers, sorry to disappoint but this is a place where you come to unwind with a nice drink. And in keeping with the pub culture, they've got amazing deals going on, all season long.
For starters, their happy hours run seven days a week straight from noon to 8pm! During happy hours they have a buy two get one free policy for wait-for-it, all alcohol! Not just the cheap stuff, but all alcohol! Domestic and Imported. That means you can essentially get a glass of Bombay Sapphire gin for around INR 230! Or maybe a glass of Grey Goose for approx. INR 330! (Provided you actually plan on drinking three).
They've also got an amazing Sunday Brunch that runs from 11.30am to 3.30pm. For INR 1,500 you get four starters, which include the usual paneer tikka and chicken tikka, three mains with mutton biryani, vegetable pulao, vegetarian and non-vegetarian burgers and six different types of salad, along with a live pasta counter. Now for INR 1,500, you might be thinking that's not enough. It isn't, because the best part is that along with the meal, you get an unlimited supply of the following drinks: Grey Goose, Havana Club Rum, Dewars White Label Whisky, British Empire and Kingfisher beer, and Bombay Sapphire gin! Now tell me that isn't amazing!
Additionally, if you bump the bill up to INR 1,999, you can enjoy the same meal with unlimited Sula wine! Though for all you non-alcoholic folk, don't worry you guys can eat the same meal for INR 999. Head to Bike and Barrel ASAP!
More Information
Bike & Barrels - The Residency Towers
Comments