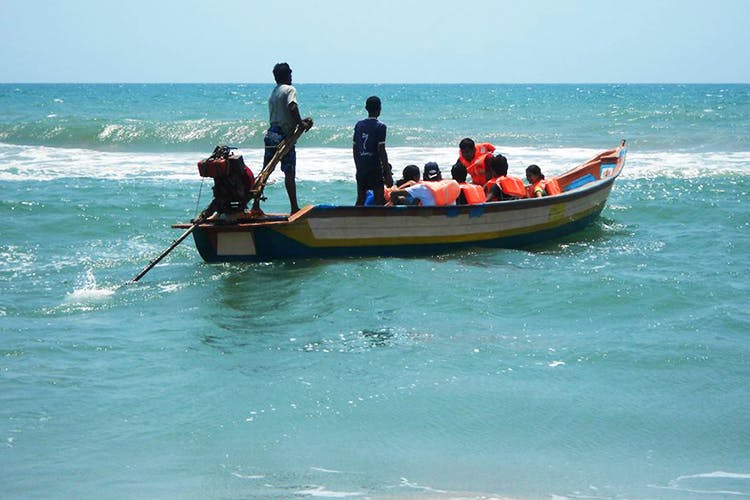 Hit The Waves At These Places For Catamaran Rides Along ECR
Looking to float about in the middle of the sea? Head to the these places in the city and enjoy a ride in Chennai's pristine waters, starting at just INR 500 per head.  The many shores along the East Coast Road, give you a chance to hop on to catamarans and get yourself some vitamin sea. Here is our pick of the best of the lot!
Kovalam Beach
A straight drive down the road from ECR, the Kovalam beach offers rides for the adventurous soul. The guides are present right on Beach Road at Kovalam and depending on the tide, you could get yourself and the gang a ride into the waters.
Equipped with life jackets and all the precautionary measures, you don't really have to be a swimmer to do this. The annas here take you right in the centre and help you get down in the water, with the help of a rope. For the next good half an hour, you get to chill, literally in the middle of nowhere. All water around and nothing else. Pure bliss!
Price: INR 800
Radission Blu, Temple Bay
If you're in Mahabalipuram, then we have got two rather magical options for you. Why magical? Starting at INR 800 per head, the catamaran ride in Radisson Blu, Temple Bay like other rides drops you in the sea for more than 30 minutes but the best part is not that. Depending on the waves, you also get to witness the domes of one of the temples that has now sunk into the waters! This temple is said to have been built along with the famous Shore Temple and other monuments in Mahabs. How incredible is that!?
Don't forget to pre-book yourself a ride, you don't want to get disappointed on a high tide day.
Price: INR 800 onwards
Santana, Mahabalipuram
An affordable option is located right on the beach next to popular eatery Santana. Now, the restaurant has tied up with the fishermen on the beach to give out rides to those adventure souls.
This ride right next to the Shore Temple might just add on to your best experiences in the coastal city. Usually costing around INR 250 per head, these fishermen too take you to the middle of the ocean from where a mysterious temple dome is said to be visible. They too provide you with life jackets, so don't worry about riding with the locals. We most enthusiastically gave it a shot and trust us when we say they have got you sorted!
Let us know in the comments below if we have missed something!
Comments