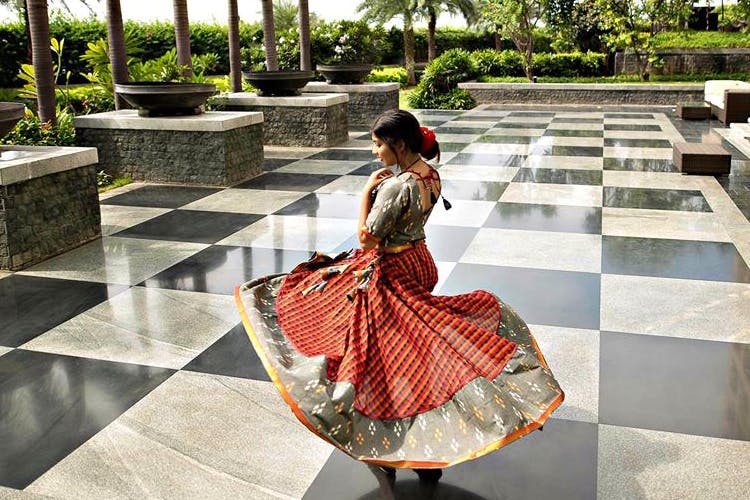 This Brand Makes One-Of-A-Kind Skirts With Chettinad Checks & Kalamkari Edges
Shortcut
Colors and Mirrors aims to celebrate the garment as well as the incredibly rich diversity of textiles and craftsmanship in the country and bring to its customers unique, handmade products that scream joy, colour, vibrancy and, importantly, India.
What Makes It Awesome
Long skirts have long captured the fancy of most for their whimsy, versatility, and comfort. And a newish brand dedicated purely to the skirt cannot but steal hearts! Their USP, however, is the fact that of the 300 odd skirts created, not one design has ever been repeated.
So what kind of skirts can you expect? Colors and Mirrors mixes weaves and prints from different regions of India to create some of the most colourful results in comfortable, breathable cotton, silk cotton, silk kota and khadi– fabrics that age well and last long. Think long, elegant skirts with printed borders and mirror work, swirling ikat skirts with Chettinad checks and Chanderi stripes, flouncy ruffled kalamkari-edged skirts, and even denim combined with Indian prints and weaves! Their flamboyant patchwork skirts can be paired with any kind of top and innovative cloth ball tassels in multiple hues hang delicately off the edge of the waist.

Pro-Tip
As part of the Embracing Diversity Photo, Colors and Mirrors uses models from socially marginalised groups, and the results are joyful, evocative and beautiful. Have a look at their photo series with people from the transgender community wearing their skirts here.
Comments