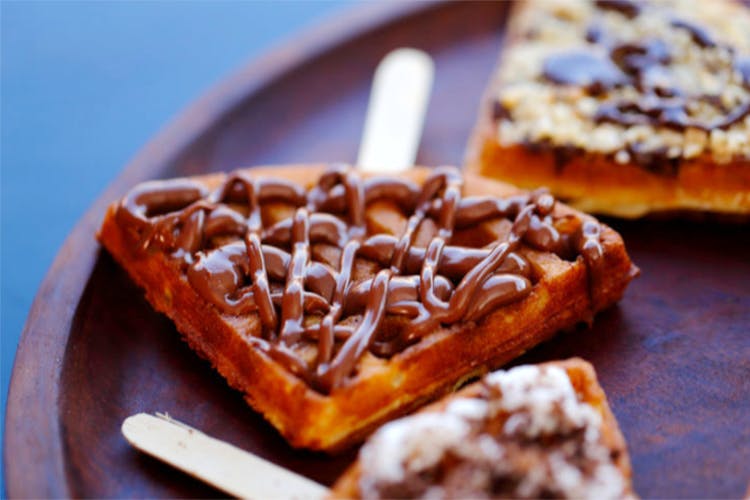 Nutella Chocobar & Peanut Butter Waffle Pops: Discover Delicious Waffles In Town
From classic Belgian waffles to waffles on a stick, here is your guide to the best places to head to for your sweet tooth cravings. We assure you that you're going to like this list a waffle lot!
Waf O'Bel
Located in Chetpet, right beside the Chimaya Auditorium is this waffle eatery which is setup in a modified house. What's special? Waf O'Bel serves the crunchiest waffles in town.  Try their Red Velvet waffles and the Red Carpet. The Red Carpet is served with your choice of fruit and whipped cream, and next summer don't forget to dig into their Mango waffles, which we personally loved.
For those of you looking for some savouries, dig into their Waans starting from INR 180. They serve two types of Waans, which are soft waffles stuffed with Mushroom or Paneer with a dash of spicy flavours.
Waffles Thru The Day
Fancy some English breakfast with fresh, brown waffles? Waffles Thru The Day is the place to be! Our recommendations from their mouth watering menu would be  The All Day Brekkies. Relish hot sausages, hash browns, whole waffles, thick pancakes and sip on some fresh fruit juice with their lovely spread of breakfast combinations from the All Day Brekkies.
While they are known for buttery Blueberry and Dutch Apple pancakes, their Classic waffle made with buttermilk was easily our favourite. It was simple, soft and served more than two of us. Priced at INR 300, it is dusted with sugar and served with juicy strawberries and whipped cream. Yum!
Kalo's
Take a break from dessert studios and head to this eatery by the bay. Kalo's menu has plenty of small bites, pastas and pizzas, but skip to the last page and you will be surprised. The Classic Belgian waffles priced at INR 149 are served like our favourite chocobars. Yes! Hold on to the stick and relish some chocolaty waffles. And their Nutella chocobar is definitely a must-try.
They have an interesting range of Waffle Pops too. Priced at around INR 100, we loved digging into their crispy Chocolate & Peanut Butter Crunch and the thick and very filling Salted Caramel, Whipped Cream & Banana. Heaven!
The Miner Diner
If there is one place in Chennai that you could call waffle Paradise, then it has to be The Miner Diner.They serve cheesy, meaty waffles too!
While they have plenty of Desi waffle sliders, savouries and pizzas to choose from, here is what we relished the most from their Dessert Waffles. Bring out the kid in you, by going for their Rainbow's End. The waffle costing you around INR 250 is served with dripping maple syrup is topped with gems, candy and lots of chocolate.
For chocolate lovers, their Ebony & Ivory priced at INR 220 has to be experimented. Made with the right amount of dark and white chocolate, the fresh waffles are served with ice cream and chocolate curls.
196 Degree Below
Located in a pretty corner at Alwarpet, 196 Degree Below offers a whole lot of desserts! Known as the dessert lab that serves fresh ice cream and syringe toppings, the place serves more than 10 varieties of waffles with special Liquid Nitrogen ice cream (LN2) ice creams.
Starting from INR 160, we loved trying the Waffle with Chocolate Fudge sauce and LN2 chocolate ice cream. Do check these out with the classic honey and maple syrups too!
But if you're looking to break away from the regular waffles, the lab has got the right options for you. The two out of the box waffles from the menu, really surprised us with their weird combinations! Ever imagined some paan or Rooh Afza with your waffles? Yes, that's what we are talking about – whacky combos!
When at 196 Degree Below, do check out their Waffle with Gulkand and LN2 Paan ice cream and the Waffle with Dates, Khus Khus, Roohafza and LN2 Vanilla ice cream (priced around INR 270).
Westfield
Westfield is not your usual typical dessert cafe. The small little stall located right next to Pupil, opposite to the Besant Nagar beach serves the best waffle sticks in town!
Their Lolly waffles are thin, yummy and perfect for a takeaway. Priced at INR 100, the Nutella Lolly and the White Chocolate Lolly were the yummiest. Dark Chocolate lovers, you could grab a stick or two and relish these long waffles topped with the right amount of sauces and dusted sugar.
Also worth hogging are their waffle sandwiches. Starting at INR 140, the thick brown waffles are stuffed with oodles of Peanut butter, Bananas, Strawberries, Cookies and other yummy add-on choices.
Comments