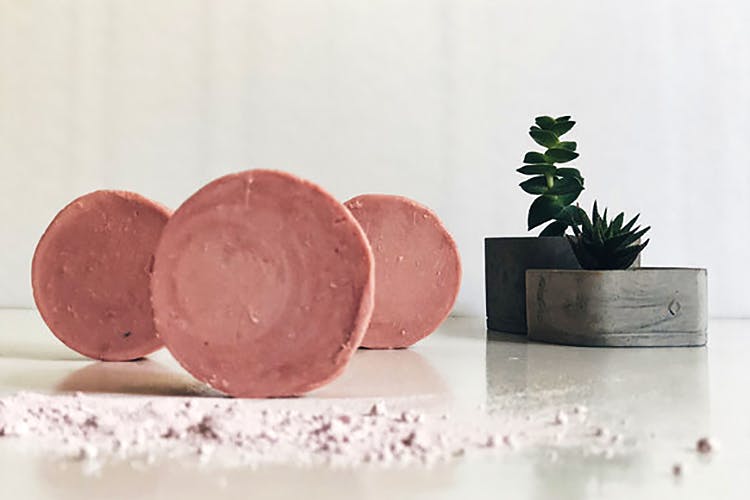 Lather Up With These Gorgeous Natural, Handcrafted Soaps Starting At INR 90
Shortcut
Grapes, Goat Milk or Green Tea? Fruits & Herbs is a Chennai-based skincare brand that is serving soaps, scrubs, body butters and more that's just all kinds of yummy.
What Makes It Awesome
Sick of commercial, mass-produced soaps? Want something 100 percent natural? Check out Fruits & Herbs for feel-good, all-natural, skin and body products. The name of the brand makes it pretty obvious, expect products made with a lot of natural ingredients like fruits and herbs, of course, and essential oils all of which are chemical-free. Not only are they oh-so-pretty to look at (those colours!). they have quite a variety for all your soapy needs. There's the Palm Wave with tea tree and Bergamot essential oils, Milky Bar with goat milk, Mint Cooler with peppermint, generous amounts of coconut milk and spirulina powder and there's even one with our favourite go-to skin healer – calamine lotion – called Calemeister. How fun!
And it's not just about the soaps. They even have natural nourishers for your hair and body as well. Pamper yourself from head to toe with these products. For your hair, you can try their Herbal Hair Oil which is a best seller. It contains neem, amla and henna and hibiscus oil that is said to give you strong, shiny hair. They even have beard oil, gentlemen, to tame those whiskers. Get that here.
You can also indulge yourselves in their body butter – Snow Souffle, Strawberry Souffle, and Chocoholic to pamper and moisturize your skin. Is it weird that writing this is making us hungry?
Comments