The information in this post might be outdated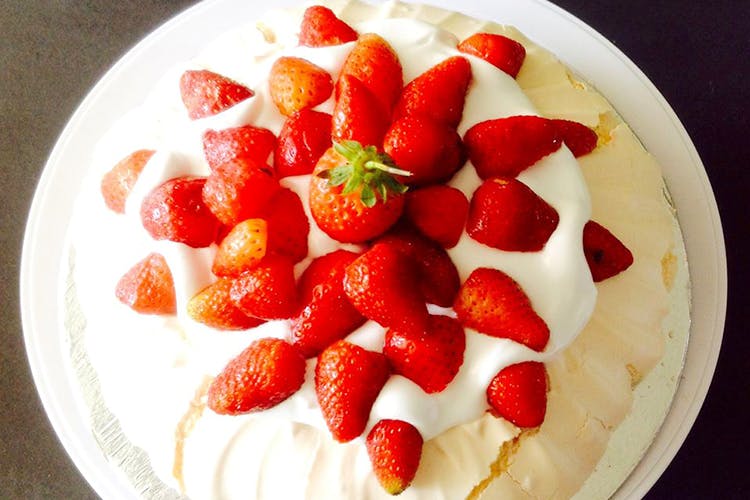 Dig In To Christmas Pavlova & Chocolate Cake In A Jar By This Chennai Home Baker
Shortcut
Christmas does bring out our love for desserts even more, doesn't it? Check out the home-baked goodies by Ameeta Kalele Bopana's Ambrosia 3'Oh'6.
What Makes It Awesome
Ameeta's foray into baking happened by chance when she decided to try baking at home. Much to her delight, she was met with warm reviews from friends and family. Skip forward two years, she is now a successful home baker with a steady clientele and has even gone into retail by selling her highly desired brownies at Nilgiris Besant Nagar, since last month.
Being a home baker one would assume that catering to large groups is out of the question, but that's not true as Ameeta is well equipped to handle mass orders. While a single chocolate cake can be booked and received in a day's time (subject to her schedule), bookings for mass orders, like birthday parties and other such events, will need to be made well in advance as preparation time is significantly longer. This is true for her more complex cakes as well.
Ameeta's brownies and cupcakes are two of her longstanding treasures while her chocolate biscuit pudding and cheesecake, are her more recent fan favourites. However this Christmas season she has something special in store. Enter her Pavlova, a Christmas treat native to Australia and New Zealand. The Pavlova is a meringue-based dessert with a crispy crust and a soft centre, topped with whipped cream and seasonal fruits like strawberries. A perfect addition to add to your Christmas celebrations. So go ahead and hit up Ambrosia 3'Oh'6 for your sugary needs.

Comments