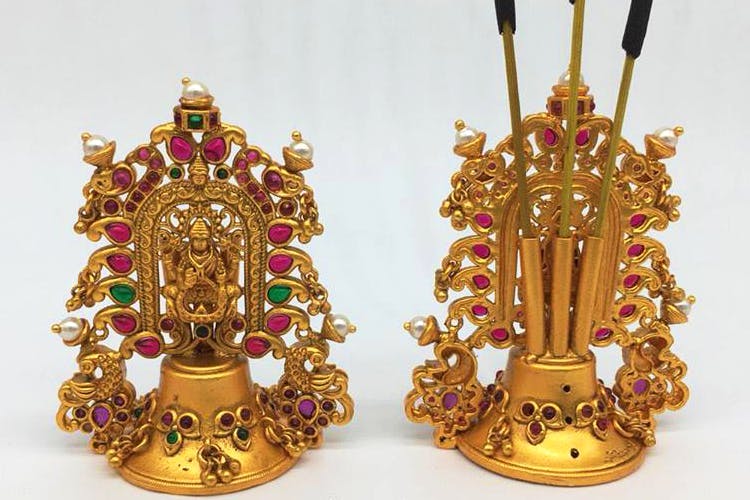 #FestiveEdit: Potli Bags, Gold Plated Kumkum Stands: There's A Lot Of Gifting Options This Season
Akshayaa Selvaraj
Check out this Navdurga art box that is a great gift and can also double up as personalised postcards. The box contains nine art prints of Devi, mini wooden easel, information card on each Devi and the day's significance, glass bottle with kumkum and an art sticker. Priced at INR 350, this gift will stay in the pooja room for a long time!

Glory Victor
If you are looking for pocket-friendly gifting options, check out the Minakari glass tumblers with peacock designs on them, that are priced at INR 80. You can also opt for vermillion containers in Minakari designs, that cost INR 125. Check out her colourful palm leaf collection that is best suited for vettalai-paaku.

Tasya Creations
We all have a special group of friends who don't get the same gifts like everybody else. We don't mind going that extra mile for this group. Tasya Creations has an exclusive set of 1 gram gold plated kumkum box and agarbati stand. They start at INR 1,200 but we don't look at prices when it comes to loved ones!

Indumathi Vijayaragavan
Handpainted terracotta jewellery is always a hit among guests. In different colours and patterns, each earrings is INR 55. You can also buy parrot thorans, office goer set dolls and handpainted mirrors that she readily has. She also takes bulk orders.

Kruthika Muralishankar
Jute purse and sling bags with kalamkari designs, raw silk purse with pompom borders, cotton bags with double side prints, jute bags with brocade potlis and sequins works, Kruthika has on offer, a whole range of bags that make for amazing gifting options. Priced from INR 85 onwards, these bags are here to stay!

Sandhiya Vino
Give the fancy bags and kumkum boxes a break and go the offbeat route. Gift a pot with a plant this Navaratri from the brand, The Gold Crowne Flowers. From bonsais to cactus, these plants make for a green gift and it costs INR 150.