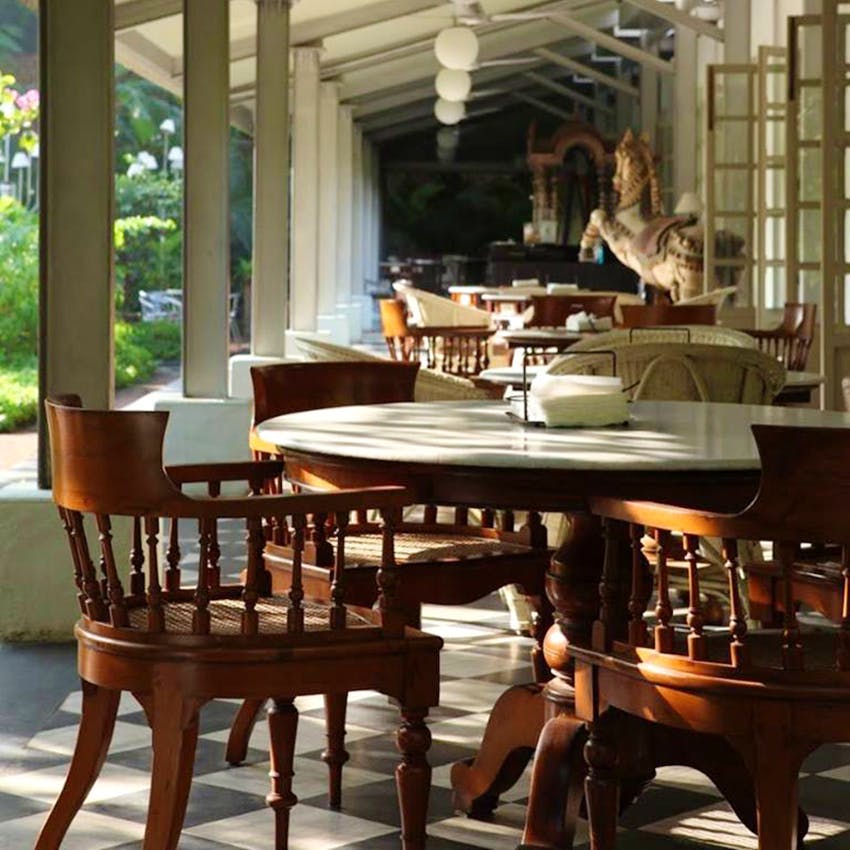 Enjoy Namma Chennai Summer At These Outdoor Cafes
Yes, Chennai is hot and humid, but when it rains even slightly, the streets of Chennai are beautiful. Here are some cafes where you can enjoy the cool weather and catch those green, blues, and some amazing views.

Craveyard Cafe
Tucked away in the quiet lanes of Adyar, this cafe has outdoor seating right in the middle of a garden with blue and green wooden chairs. This cafe isn't always crowded like the other places, so if you want some quiet time, this cafe's for you. Make those low-key date nights lit with the chirps of songbirds and parrots that are regular visitors here. The cafe is best known for their filter coffee and shakes.

First Cup Cafe
This rooftop cafe in Nungambakkam will give you poolside vibes with their chaise lounges and cane chairs. There are cane sofa sets, diwans, and swings so if you need to relax, just put on your sweatpants and cool off while watching the tallest buildings around the area. This is a great spot to watch the sunset, too, and it's even better when you're sipping on masala tea and munching on toast.

The Brew Room
French-style seating, leaves creeping up the chairs, Parisian lights, and the smell of fresh-brewed coffee, can it get any better than this? In the midst of trees and flowers, The Brew Room in Alwarpet can be addictive, and because of their fast wifi, we digital nomads can't get enough of this cafe. Enjoy a cup of hand-crafted coffee, more than seven types of tea, and Italian food at this cafe. The best time to go is late evening, you can see the sun slowly set and the fairy lights coming up will make you smile.

Ashvita Bistro
The quirky wall art at Ashvita Bistro in Alwarpet will catch your attention for sure. In the midst of a huge painting of the Tree of Life, patio seating, warm colour shades from fairy lights strung on the ceiling, this cafe is a great place to enjoy a fun dinner with friends and family. This is one of the oldest cafes in Chennai and is loved for their old-school bakery right next to the cafe.

Kipling Cafe
Escape the chaos and traffic of Chennai and tuck into Kipling Cafe on ECR, with hut-style cabanas and dreamy white curtains. There are candles lit all around and there's rooftop dining, where you can see the beach. Enjoy a Mediterranean pizza or Thai food while watching the sun, the sea, and the sky.

Wild Garden Cafe
We love the old-world colonial charm that Amethyst in Gopalapuram has, but the lush green trees and plants outside are perfect for you to sit with a book. Antique wooden chairs, ivy trails, and glimmering lights, this cafe has a great view. Enjoy pasta, pizza, and baked goodies and desserts along with picturesque views.

Comments