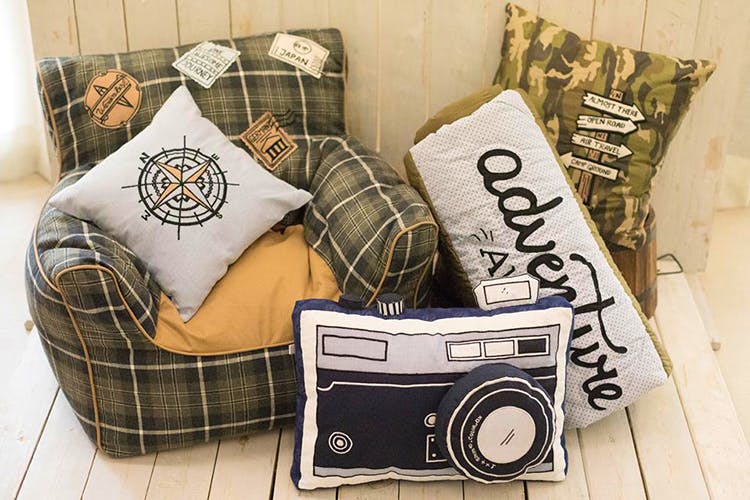 Head to This Kiddie Wonderland In Nungambakkam For Adorable Gifts & Furniture
Shortcut
Peekaboo Patterns is a store in Chennai that specialises in making unique and adorable gifts and décor for kids and their rooms like mobiles, rugs, toys and even furniture. They even offer customisation!
What Makes It Awesome
Walking into Peekaboo Patterns at Bergamo Mall is a lot like walking into furniture Disneyland. Delightfully soft furniture in bright pops of colour are everywhere and it's really hard to resist the temptation to buy something for yourself instead of your favourite baby/niece/nephew.
We particularly loved their soft bean bag chairs, which are essentially bean bags with a bit of structure in them so they look like tiny sofas! It's ultra-cute, and they even offer customisation, so you can get a name sewed on to the chair too. They cost INR 5,000 which might seem steep, but they'll make great presents as they will last much longer than most baby products, like clothes or toys, do.
Peekaboo Patterns also sells colourful pillows in a variety of shapes, long cushions with gorgeous applique work that are just perfect for the crib, quilts and themed bed linen. Their themed decal stickers, massive floor cushions and vibrant rugs are a must if you are decorating your child's nursery. If you have a slightly older kid in your life, you can check out their range of accessories for young school-going children like backpacks, water bottles and lunch boxes.
Peekaboo Patterns also has indoor tepee tents which are so gorgeous, you'd want to pick them for yourself. This store also stocks innovative toys that you wouldn't normally find in generic stores like handmade felt finger puppets, felt valances, wooden play tools and puzzles. If you're looking to pamper the baby in your family or life, head straight to Peekaboo Patterns. You will not be disappointed. Prices start at INR 250.
Also On Peekaboo Patterns
Comments