The information in this post might be outdated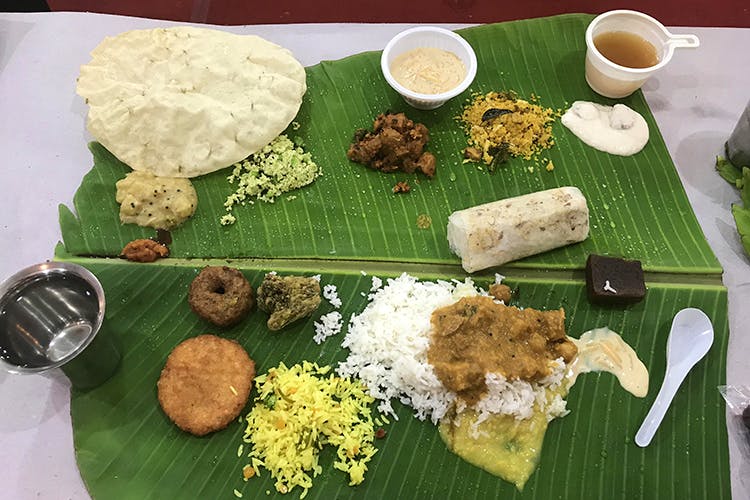 Vazaiphoo Vadais To Usili Upma: You Must Eat At These Sabha Canteens Before The Margazhi Season Ends
No experience of the Margazhi season and its dizzying array of concerts and recitals is ever quite complete without gorging on delicious food from different canteens attached to each sabhas. And if you're a true connoisseur — of the arts and food — you need to have had at least a couple of spirited discussions with fellow concert-goers on all the nuances of the cuisines on offer! Here's a list of the popular sabha canteens that you must pay at least one (let's be real it's going to be more) visit to before Margazhi ends.
Gnanambika Catering At Thyaga Brahma Gana Sabha
Gnanambika Canteen, known as one of the best canteens of the musical season, is located in T-Nagar's Vani Mahal. The hot, fresh, simultaneously crunchy and soft keera vadais and vazhaipoo (banana flower) vadais are a must-try. Experiment with the beetroot idiyappam sprinkled with grated coconut, or stick with the classic crispy dosai. Whatever your choice, you're going to love it. Regular sabha hoppers tell us the melt-in-your-mouth carrot halwa is worth every penny.
Canteen At Music Academy
For a wholesome Margazhi experience, line up at this canteen, where families and friends reunite after a whole year, artists of repute and star-struck fans share the limited tables, and gossip and concert-reviewing are indulged in equal measure.Taste the Guntur Idli, the Usili Upma, Puli Upma, and Vazhathandu Uthapam and finish your meal off with a tumbler of warm, comforting Horlicks and some Suryakala sweet before you dive back into the hall for the next concert. Don't worry about the music season coming to an end. The canteen continues to function through the first couple of weeks in January when the annual dance series takes place. This year, the canteen food is being prepared by Patappa, a change from last year, when it was catered by Mint Padmanabhan.
Canteen At Krishna Gana Sabha
Krishna Gana Sabha, tucked away between the busy streets of commercial T-Nagar, is already a popular hit for it's hotel which serves the softest dosai. Duck into the quaint little gable roofed Krishna Sweets-run canteen, sip on steaming filter coffee as you take in the atmosphere, enjoy the lush vegetation and watch dancers and singers around you talk art as they tuck into their absolutely delectable morkalis (infused with just the right amount of that mouthwatering tanginess). Make sure you try the Pidi Kozhukattai; dipped into a generous amount of green chutney, it makes for an excellent pre or post-concert snack.
Mountbatten Mani At Sri Parthasarathy Swami Sabha, Mylapore
The jewel in the Chennai crown every Margazhi is Mountbatten Mani's elai saapadu in Sri Parthasarathy Swami Sabha in Mylapore. Enjoy an elaborate feast on the banana leaf — old traditional favourites with innovative twists like watermelon rasam, avarakkai, and red Pumpkin sambhar and vegetable payasam are served. The menu changes every day, so your visits back are warranted! You may have to battle for space, but all the jostling and waiting is worth it — especially for the palmyra sprout vadais. The food is free of onion and garlic, so even the most fastidious of eaters love the fare. And don't miss the special meal on new year's day!
Sri Sathyalaya Catering Canteen At Narada Gana Sabha
If you're attending a performance at Narada Gana Sabha, chances are you'll make a quick stop at the canteen before you catch the programme. Sweet, hot coffee and a sinfully, buttery, ghee roast dosa are perfect just when you need to refuel yourself for all the art that lies ahead! Sri Sathyalaya Catering starts as early as 5.30am, and the elaneer (tender coconut) payasam is a favourite. The Chettinad food on offer for evening tiffin is an added bonus. Regulars also recommend the stuffed chilli bajjis and the Kuzhi Paniyarams, and you'd be crazy not to take their advice!
Canteen At Mylapore Fine Arts Club
Suda suda sambar, vathaikozhambu, potato curry, kootu, and all things which make for the best elai saapadu - gorge on them at Mylapore Fine Arts Club. This canteen is known for gathering a large NRI and foreign crowd and has seen rasikas from all over Europe and USA. We love that the menu is short and sweet, just like their paayasam!
Comments