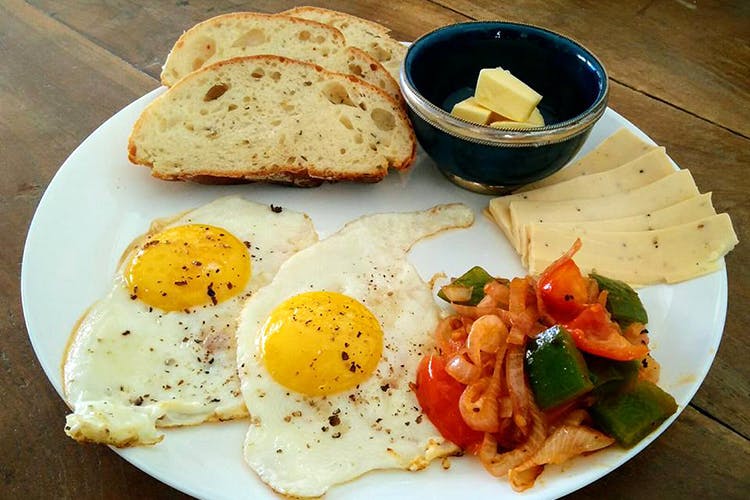 This Surf School In Mahabs Has A Homely Eco-Friendly Cafe For Brekkie & Seafood
Shortcut
Sandy Bottom Cafe is an eco-friendly cafe in Mahabalipuram. It is a part of the Mumu Surf School and serves up healthy breakfast and brunch options made from fresh, local produce.
What Makes It Awesome
Take surf lessons at Mumu Surf School in Mahabalipuram and recharge yourself at their healthy eat out spot, Sandy Bottom Cafe. The cafe is run by Anna Goetzke, a German who shifted base to Mahabs three years ago. Being an eco-friendly person, Anna has done up the cafe using recycled material from a scrap dealer.
Everything at the cafe, including the furniture is modified from scrap. Even the cutlery used at the cafe is completely reusable and they strictly prohibit the use of plastic at the cafe. The walls are decorated with intricate graffiti done by Anna herself and the cafe is always home to a few stray canines. They're usually open from 8am to 6pm and they serve up healthy breakfast options. There's banana curd with chia seeds, healthy oat pancakes with banana and nuts, muesli with fruits, pomegranate shake, banana peanut shake and more.
The menu is never really the same as all the dishes are made from fresh produce that's available for the day. They have dosa with chutney, and omelette with cheese and tomatoes on the breakfast menu which is available almost everyday. Anna bakes homemade bread to-go with the breakfast varieties too. They also serve beverages like hot chocolate with cinnamon, black tea, spicy herbal tea etc.
You can also feast on some fresh seafood for lunch and dinner but make sure you pre-order your food so they can source the necessary ingredients from the market. The cafe is usually open all through out the week but they might close if the surf is good and they put up a "Gone Surfing" or a "Chai Time" sign in such cases! Anna often uses the key ingredient as a serving bowl, like if you order a Honey Dew Shake, she serves it in half a muskmelon (how creative!)
So the next time you're in Mahabs, don't forget to check out Sandy Bottom Cafe for a healthy meal that's kind to the environment.
Also On Sandy Bottom Cafe