The information in this post might be outdated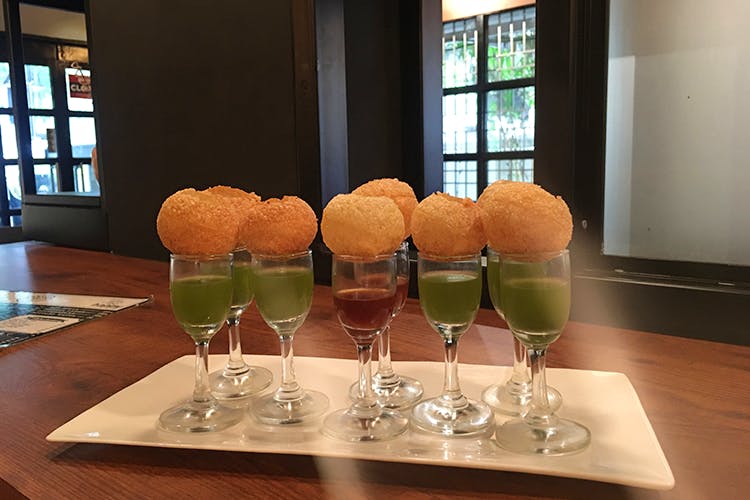 Water Shots Or Vada Pav: Try Chaat With A Twist At This Cafe
Shortcut
One of the several things that unite North Indians and Chennaities is the love for chaat. And if you love chaat from different corners, we found a fix for you at this food bar in Kilpauk.

What Makes It Awesome
When it comes to chaat places in the city, the more the merrier, right? Adding to the list is Sector 99 which is great for small bites and the many chat items with tiny little twists. For starters, we tried their vada pav as it was exciting to finally find a sit-down cafe to have this favourite Bombay snack. And we must say, it did not disappoint. The vada pav was spicy and took us back to the Mumbai galis with bhaiyas selling pavs.
Pani puri or puchka is passe. We now have a new name for it - they are called, Water Shots. Fancy huh? But they got the name because of the way they serve it (think small shot glasses). As for the taste, they pani is neither too bland, nor spicy.

Other recommendations from the menu would be the Three Way Monaco Bites that comes with crunchy toppings and the tangy Designer Dabeli.
Sector 99 apart from serving authentic Mumbai Khau Galli style snacks, is also an aesthetically pleasing place. Designer lights, high raised stools only add to the charm of this place. But that's not it. The dishes are also pocket-friendly so you don't have to worry about burning a hole in your pocket. With dishes being priced from INR 90 onwards, this food bar is worth a shot.
What Could Be Better
While we loved the buttermilk for quality and quantity, their milkshakes did not make the cut. They lack flavour and are overpowered by the taste of milk. We suggest you give the shakes a miss and opt for their spiced buttermilk or the Patiala lassi.

Comments