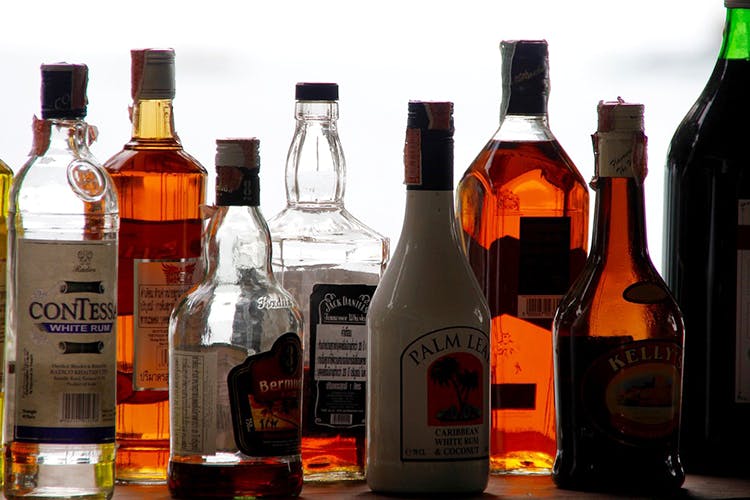 Planning A House Party This Weekend? Stock Up On Your Fave Alcohol At This Store
Shortcut
For regulars at Express Avenue, the TASMAC Liquor Shop in the basement is well known. It's one of the few liquor stores located in malls with a full license to sell alcohol as long as you are above the age of 21. And if you're thinking that they won't have anything exciting or fancy, we're here to tell you otherwise. Granted, Old Monk and Sula wine are not available in our wonderful city, but there are alternatives and we've got the lowdown for you.
What Makes It Awesome
In the back of their store in Express Avenue Mall, Tasmac has set up two glass door refrigerators with beers – domestic and imported – so you can pick and choose from different brands. If you're interested in more something more local, they have British Empire and the new kids on the block, Sterren and Kolt, both of which are brewed right here in our fair city. They also have the obvious choices of Kingfisher and Heineken Priced between INR 150 – INR 300. And if you're interested in something imported, they have Sol (it's a Mexican brand similar to Corona), Hoegaarden (a Belgian beer) and sometimes their shelves even carry Leffe (another Belgian beer).
Most rum drinkers would prefer a glass of Old Monk, unfortunately, that is impossible if you live in Chennai (for various reasons). However, there are other options at TASMAC and mostly in the Bacardi range of rums. Popular these days are the flavoured Bacardi drinks and this store has them too, if not all at once, then every few days the flavours change based on demand.
TASMAC has a massive collection of wines. For starters, Kingfisher has an amazing range of wines called Bohemia bottled in South Africa. They have a Chenin Blanc Chardonnay (white wine) and a South African Pinotage (red wine) which is available at the store. They even offer imported wines like Two Oceans (also from South Africa) and Jacob's Creek (from Australia). If you're in the mood to celebrating, they even have champagne and other bubblies to choose from.
TASMAC even offers a standard selection of McDowell's, Royal Challenge, and Johnnie Walker (if you're lucky), along with some locally made whiskies too. Although, it's best that you do your research before buying something you've never heard of, even if it might be cheaper than everything else on the shelf.

Pro-Tip
During festival and holiday seasons they are packed and sometimes block the entrance to the store, requiring you to make your purchases at the desk they set up at the door. Show up early during these times to make sure that you get what you're looking for.
Comments