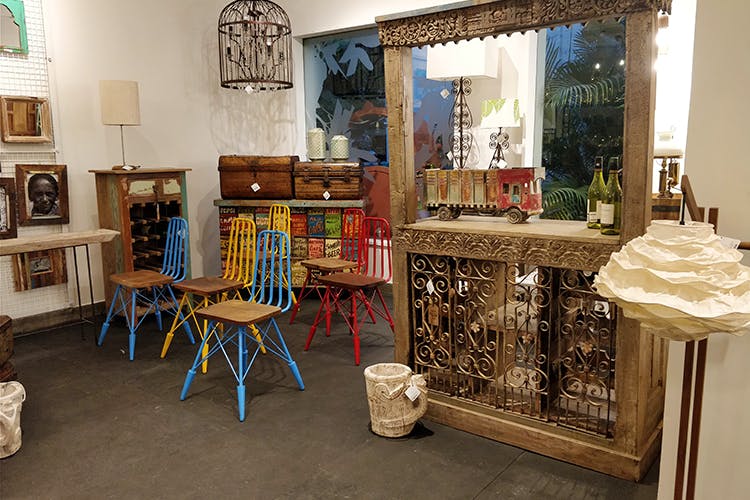 10 Quirky Products Under INR 5,000 You Need To Own, From This New Lit Décor Store
The Purple Turtles is the new kid on the block, at Chamiers Road to be precise, for gorgeous home décor and lighting. The Bangalore based-store that is now open right opposite Chamiers (and party of the group as well) and makes you want to move in there. It's pricey, yes, but oh-so-stunning. It houses everything from floor lamps to table ones and ceilings lamps to distressed furniture and antique décor. What is its USP, you ask? Oh, definitely the lighting. Get all sorts of funky lamps and lanterns that you can hang from the ceiling or place at your bedside table. The store is sprinkled with all kinds of lighting and decor pieces, but we'd advise you to drop by at night when it's all lit up!
So if you've fallen in love with the store like we did, here's what we'd like to shed some light on if you are on a budget and would like to shop for the good stuff under INR 5,000. Ready to look at your home in a whole new light?
Bird Wall Hangings
The idea of holding back birds in cages sound awful to us. So get these instead! These adorable wooden birds perched on wall hangings make lovely home décor and you can even get them in different colours like red, blue, yellow and green — get a mix of them all maybe?
Price: INR 1,037
Rice Lights
Light it up with these classic silvery rice lights and string them along a palm plant or table lanterns to spruce up your space. You can get them as round spheres or even gold flattened spheres. So much more elegant than plain old fairy lights. We approve.
Price: INR 1,512
Antique Keys
Another great home decor option, these rustic keys make for great wall hangings. There's just something charming about its vintage appearance that add to its appeal, eh? These chunky keys come in different yet quaint patterns at their ends, so you might end up wanting more than just one! Oh, and they also have locks if you'd like it as a set.
Price: INR 1,033
Candle Holder
There are a couple of good options here if you are into candles and tea lights. Place them in a selection of pretty candle holders provided by The Purple Turtles. We particularly liked a brass candle holder with a giant sphere with miniature holes behind that'll capture the candle flame's shadows in a pretty design. There's also 3D golden lanterns that can showcase a similar effect. They look pretty during the day and even prettier when lit up at night!
Price: INR 1,327
Doodle Print Lanterns
Millenials, you will love these young and contemporary doodle lanterns. One even is reminiscent of a Dr Seuss book with quirky illustrations and wacky poetry.
Price: INR 1,770
Quirky Chairs
Get these cute wooden seater steel chairs that can add so much spunk to your room or patio. We love the colours and the design and although the price is steep (almost INR 5k per piece) if you don't mind spending, we'd recommend getting at least two different colours to go.
Price: INR 4,956 each
Lorry Décor Piece
This one probably doesn't serve any particular purpose but we just want to pick it up because it's so cute. This distressed miniature version of our humble Indian truck is for anyone whose homes have a quirky desi touch to it.
Price: INR 4,390
Chettinad Tiffin Carriers & Tumblers
For the Madrasi in you, check out these lovely old-school tiffin carriers and worn out brass tumblers. Their antique-y look makes for a lovely statement decor piece to be perched up on any corner of your home.
Price: INR 2,124
Colourful Photo Frames
Simple and classy, these distressed photo frames come in fun colours of blue, lime green and the more simplistic brown. You might want to slip in old vintage photographs maybe of when mum and dad were young to match the worn out style of the frames. Perfect, we think!
Price: INR 1,010
Studio-Type Hanging Lights
We heart these super funky lights, perfect for putting in your work space or study.  Raw, cement blocks with lights beaming from inside, these industrial style lights can really turn a dull space into something more fun.
Price: INR 3,068
Comments