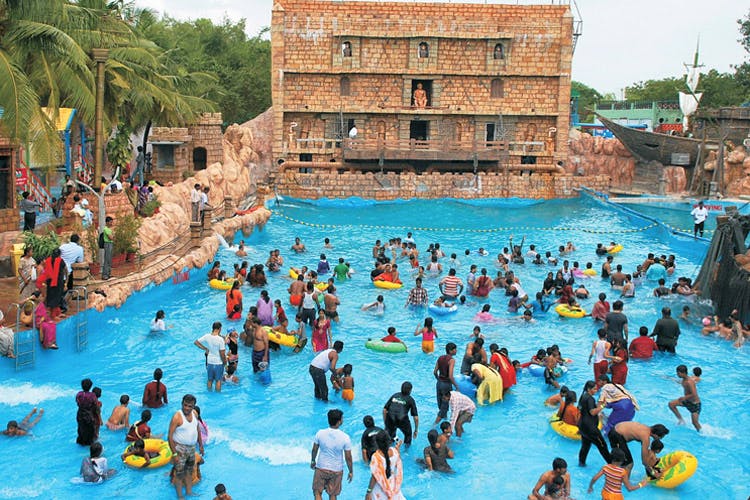 Cable Car Rides, Snow & House Of Horrors: These Theme Parks In Chennai Are Entertainment 101
Missing all those fun rides and water sports from your childhood? Head to these themed parks around the city to treat the child within you! From roller coasters to snow worlds, these amusement parks in Chennai have it all! Get your squad together and head to these themed parks this weekend to bring back childhood memories!
VGP Universal Kingdom
Apparently, this is India's first amusement park and has been around since 1975. VGP Universal Kingdom has been creating waves all around the city after introducing South India's biggest snow park. Just a short ride on the scenic ECR, VGP Universal Kingdom truly is a one-stop destination for fun. Rides range from jumping frogs, the Ferris wheel, wave swinger, dashing cars, roller coaster, water sports and over 40 more. There are plenty of restaurants too! Is VGP Universal Kingdom a place with just a bunch of rides? Not at all! There are several other attractions apart from the Snow World like the 3D Art Museum, a vintage camera museum, a horror house, a 'paneer' fort, a petting zoo, live shows, and a private beach, making it one of the best theme parks in the city.
Kishkinta
This theme park located near Vandalur was named after an enchanted realm of the Ramayana. Spread over 120 acres, this amusement park is truly magical. This park offers plenty of wave pools, roller coasters, jolly rides, and water sports. It also has several parks and five massive artificial lakes for a nice picnic with your squad. Apart from the rides, it also has live shows like the magic show, the musical fountain, and the water ski show.
MGM Dizzee World
Again another entertainment marvel theme park on ECR, MGM is an all-in-one. Tailor-made for families, this park has plenty of water rides and Dizzee rides like roller coasters, the Caribbean swing, a massive Ferris wheel and much more. It even brought the famous Jurong Bird park show of Singapore to India for the first time in 1999 and introduced hot air balloon rides in Chennai for the first time in 1998. The theme park even has a luxury resort attached to it with sea-facing cottages and rooms with a private beach.
Queensland
Although this theme park is quite far from the city, it is worth the ride. This is exactly the place you want to be in for an activity-packed day with your squad. Spread over an area of 70 acres, this park has lush greenery and great picnic spots. It also has over 50 rides with two roller coasters and plenty of water rides and swimming pools. There is also a cable car ride at this amusement park, which is one of a kind in Chennai.
Comments